Downtown Montréal building receives LEED Gold certification
June 29, 2015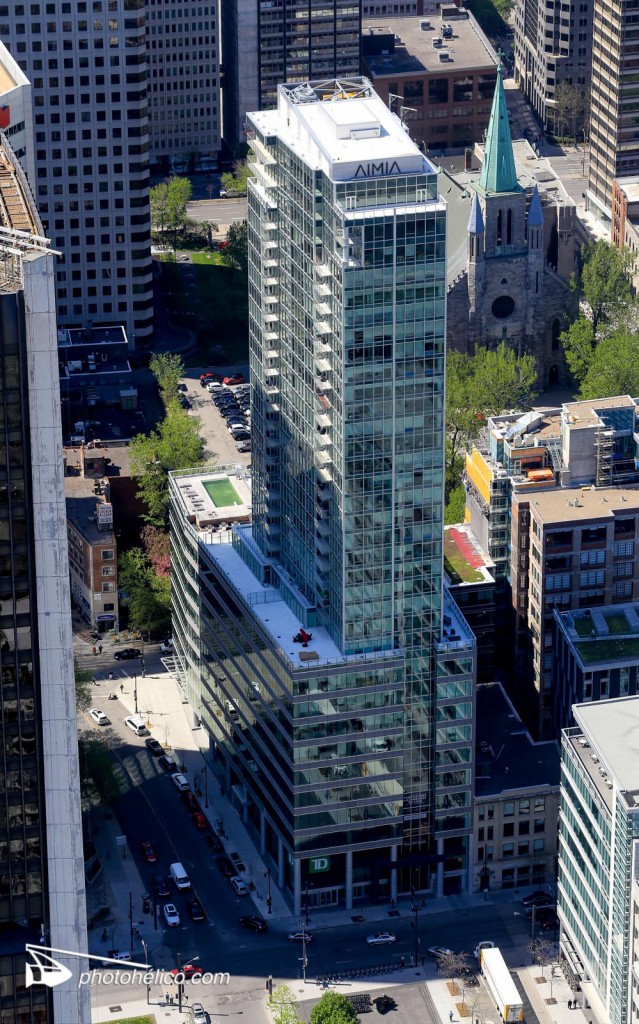 Tour AIMIA, a category 'A' office building in the international district of Montréal, is reportedly the first new office building in its category to become Leadership in Energy and Environmental Design (LEED) Gold-certified by the Canada Green Building Council (CaGBC).
Built by Kevric Real Estate, the building obtained its status for the environmental measures the company took during construction, as well as the numerous key elements contributing to its energy efficiency.
"By investing in a green building and implementing energy efficiency, waste diversion, and air quality throughout the process, this building stands to positively impact its owners and provide a healthier, more productive environment for its occupants," said Thomas Mueller, CEO of CaGBC.
"This certification shows it is possible to do a great deal for our environment when constructing a major building in the heart of downtown Montréal," said Richard Hylands, president of Kevric.
During the construction phase, Kevric used materials containing recycled components representing 17 per cent of the material costs. It also employed materials containing regionally-sourced content, which represented 41 per cent of material costs. More than 91 per cent of construction waste was sent to specialized sites for processing or recycling rather than to a landfill or incinerator.
Tour AIMIA has state-of-the-art technologies pushing the limit of energy efficiency. The design of the building's mechanical systems allows for a 29 per cent reduction in energy. The systems capture energy and reuse it where needed. For example, captured heat generated by indoor sources like computers is reused to heat other parts of the building.
The geothermal system takes advantage of Montréal's relatively stable subsurface rock temperature to cool or heat the water used in the building's heating and cooling systems, as needed. It is 100 per cent renewable and non-polluting. The outdoor light-detectors automatically turn off lights in the offices when there is sufficient daylight in order to decrease electricity consumption, and the building reduced water consumption by more than 38 per cent due to the installation of low-flow water fixtures and toilets. Fresh air supply systems deliver a high air quality, which surpasses standards.
Alternative modes of transportation are also encouraged. There are parking spaces for bikes, shower facilities, direct access to the city's underground pedestrian network, direct indoor access to two Metro subway lines and the building is in proximity to six bus routes. Roughly four per cent of parking spots are equipped with charging stations for electric cars.
To learn more about the building, click here[2].
Endnotes:
[Image]: http://www.constructioncanada.net/wp-content/uploads/2015/06/20150611_C9561_PHOTO_EN_43496.jpg
here: http://www.kevric.ca/la-tour-aimia-obtient-la-certification-leed-canada-ne-or/?lang=en
Source URL: https://www.constructioncanada.net/downtown-montreal-building-receives-leed-gold-certification/
---