Safety grounded in advanced control panel
While high-speed, roll-up doors offer plenty of advantages when compared to traditional doors, the control boxes making them work carry their own set of risks. Maintenance workers having to change settings on the door or troubleshoot a problem are required to wear protective gloves or some other form of personal protection equipment to mitigate the harms associated with arc flash. As described by the Occupational Safety and Health Administration (OSHA), arc flash is phenomenon where a flashover of electric current leaves its intended path and travels through the air from one conductor to another or to ground.1 While arc flash does not occur with every control box encounter, the threat of it requires proper precautions because serious injury and even death can occur when humans are close to the arc flash.
Recently, new graphic user interface (GUI) control panels have been developed that use low-voltage connections to link with junction boxes offering seamless interaction with door functions. For example, a 180-mm (7-in.) LCD touch screen provides workers with easy to understand icons and descriptions, thereby simplifying door setting adjustments. Without having to wear gloves, workers can make changes without fear of arc flash.
Additionally, some GUI door controls provide valuable real-time data, including the number of cycles for the door and average cycle time per opening and closing, as well as easy-to-understand troubleshooting. These measurements can help determine maintenance cycles, efficiency, and keep the door up and running more consistently. Multiple languages also are featured on some GUI control panels.
It is important to find a GUI panel that is enclosed in a National Electrical Manufacturers Association (NEMA) 4X casing, which can withstand the harsh wash-downs occurring in clean room areas or in places with coolers and freezers.
The dangers of blind spots
Besides the dangers of arc flash, blind spots inside facilities create opportunities for accidents. Perhaps the most common type of blind spot is what lies on the other side of a door. While some operations can allow for windows or viewing panels in the door, not all do. A forklift with a load approaching a door from one side and a worker entering the same door from the other can be a risky prospect.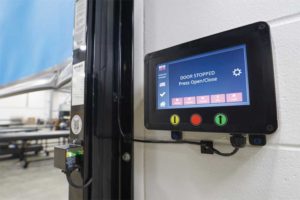 Blind corners and intersections inside plants create opportunities for risk and accidents. Many facilities use mirrors or traffic signs to address these challenges. Mirrors do a good job of providing a real view of obstacles/workers, while traffic signs merely offer safety advice. Just because a sign reads "slow" near the threshold of a door does not mean the worker approaching actually heeds its warning, especially if they have gone through the door hundreds of times without an incident.
Increasingly, facilities are starting to implement light communication systems to add an additional layer of safety. One example is announcing when a door is about to close using strips of light-emitting diodes (LEDs) on either side of the door. When a door is about to close, the lights flash yellow. When the colour of the lights turns red, the door is closing. This system is good for alerting workers when to avoid passing through a door opening in a facility.
Similar to the flashing yellow and solid red lights of the pre-announce system, a countdown light communication system alerts workers when an open door is about to close. Instead of coloured lights, a number countdown appears in an easily viewed location near the door, like a crosswalk countdown at a busy street intersection. The numbers appear white when three or higher, but change to yellow on two and one. Once the countdown is complete, a red arrow points down to signify the door is closing. Motion sensors allow workers to re-activate the door at any time, which restarts the countdown sequence.

Control the content you see on ConstructionCanada.net!
Learn More.