by Jon Schumacher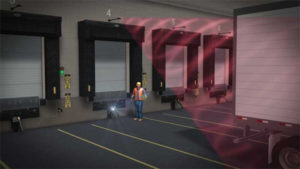 The online retail boom (and the corresponding change in consumer delivery time expectations) has forced warehouses, distribution centres, and production facilities to operate at an ever-increasing pace. Fortunately, recent technological improvements in supply chain equipment have allowed industrial facilities to keep up with this demand, while maintaining safety and efficiency.
One example can be seen with high-speed doors. Now capable of operating at speeds of up to 2.5 m (8 ft) per second, these doors not only increase productivity, they also open up floor space. Thanks to their roll-up design (with the door collecting in a head assembly above the opening), they require very little wall area compared to traditional rigid-panel, centre-opening doors. For example, a traditional 1.8-m (6-ft) wide door requires approximately 0.9 m (3 ft) of wall on each side of the opening so the panels have a place to move when opened. Roll-up doors can reduce this physical footprint by 80 to 90 per cent while providing quicker cycle times.
Upward-acting doors have seen a number of other advances in the last several years. Some have the ability to snap back onto their tracks if struck by a forklift, minimizing repair-related downtime and energy loss due to the door being dislodged. Certain high-speed, roll-up doors offer high enough R-values that refrigeration/freezer facilities can operate without a heated panel defrost system. One type uses torque-sensing technology to provide reversing capabilities rather than pneumatic or electrical reversing edges, which greatly minimizes maintenance. Additionally, doors with "soft-breakaway" technology ensure workers are not severely injured—or equipment or product damaged—if they impact a door.

Control the content you see on ConstructionCanada.net!
Learn More.