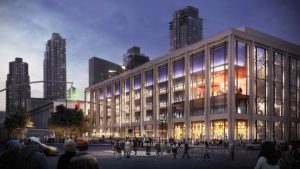 Diamond Schmitt Architects and Tod Williams Billie Tsien Architects have been selected to design the David Geffen Hall in New York City's Lincoln Center for the Performing Arts complex.
The team seeks to create a more intimate performance venue with state-of-the-art acoustics and artistic flexibility to present orchestra concerts, solo performances, multimedia presentations, and movie screenings.
The acoustician for the project is Paul Scarbrough of Akustiks and the theatre designer is Joshua Dachs of Fisher Dachs Associates.
The new concert hall introduces a 'single-room' concept, eliminating the proscenium and moving the stage forward by 8 m (25 ft), with audience seating wrapped around it, bringing all seats closer to the performers.
The new hall will be a flexible space with variable stage configurations designed to support a wide range of performances. Natural wood and curvilinear forms create an immersive experience that transforms the room into a contemporary, sculpted design. Seating capacity will be reduced by 500 seats to 2200, and a steeper rake (incline) will be added to the orchestra level. The hall will also have improved accessibility in accordance with the Americans with Disabilities Act (ADA).
The hall's main lobby will double in size and open up on three sides to connect with the campus. At the core of the new lobby will be a media streaming wall, which can show concerts and events in real time as well as other digital formats. The reconfigured and re-energized Grand Promenade will create one of the largest spaces for entertaining at a performance facility in the city.
A new addition is the Sidewalk Studio, which will be a home for educational, artistic, and community activities. The lightwall will wrap around three sides of the interior top of the building, creating space for mood and architectural lighting. Over 1022 m2 (11,000 sf) of office space will be located behind the lightwall. The entire north façade of the building will be reimagined as a 'canvas' on which to commission site-specific works. All of this will be accomplished while respecting the original Max Abramovitz building exterior.
The new concert hall will open in March 2024.