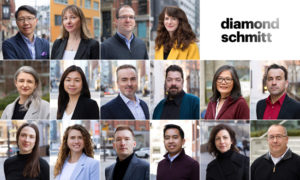 Diamond Schmitt Architects is expanding its design and management teams with two new directors and the appointment of 14 associates and advancements.
Claudia Cozzitorto is the new design technologies director in Toronto. She applies her architectural background to building information modelling (BIM) implementation at the firm. She has held national and local roles for the advocacy of BIM in architectural practice.
Rod Maas is the new technical director in their Vancouver studio. Maas brings a background in highly sustainable design on international projects to oversee technological implementation.
Four architects, Walton Chan, Cecily Eckhart, Eric Lucassen, and Jessica Shifman are promoted to senior associates. New associates are Elena Chernyshov, Jessica Cheung, Chris Hughes, Dieter Janssen, Wen-Ying Lu, Giuseppe Mandarino, Judith Martin, Fernanda Rubin, Arne Suraga, and Jose Trinidad.
"These promotions acknowledge the talent, breadth of experience, and design depth in our studio across a wide range of projects as we continue to grow our practice," said Donald Schmitt, principal, Diamond Schmitt Architects.