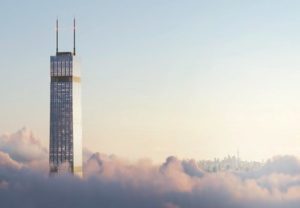 DIALOG design firm has officially filed for the patent of its Hybrid Timber Floor System (HTFS). Once approved, the system could lead to the introduction of mass timber structural solutions into the supertall tower category, reducing the environmental impact of tall building development in high-density urban areas.
The patents have been filed by the international design firm in Canada, the U.S., the European Union, Australia, and China.
The HTFS combines cross-laminated timber panels with steel and concrete to build high-rise towers with a reduced carbon footprint. When incorporated with other smart building technologies, such as photovoltaic panels, algae bioreactors, or other renewable energy solutions, towers as tall as 105 stories could achieve carbon neutrality.
With post-tensioned steel cables encased in concrete bands and embedded into Cross Laminated Timber (CLT) panels, DIALOG's HTFS will allow for a 12 m (40 ft) column-free span, where standard CLT design systems currently span just three-quarters of that distance.
Once the patents are approved, the structural system will then require localized approvals to coincide with area code requirements around fire, health, and life safety.
While awaiting patent approval, DIALOG is working in partnership with global construction firm EllisDon to develop scaled panels for thorough structural testing.