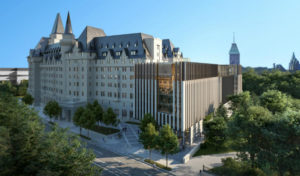 Ottawa's planning committee has approved a controversial site plan proposal for a new addition at the rear of the historic Château Laurier hotel in the city's downtown.
The committee voted on whether or not they believed the structure would be safe and functional, but a stream of public delegations also spoke at the meeting to once again dispute the contemporary addition that has already gone through five public design changes since 2016. City staff felt that conditions have been met and voted 8-3 in favour, reports CTV News.
The design falls under the heritage permit that was accepted last year when city council approved the application to alter the landmark hotel as long as the owner, Larco Investments, worked with city staff to make the addition 'more visually compatible' with the existing hotel. The council also wanted three particular changes: more Indiana limestone, a breakup of the blocky north façade, and geometric patterns similar to the hotel's structure, as per the Ottawa Citizen.
Rideau Vanier Coun. Mathieu Fleury, whose ward includes the Château Laurier, said he will try to bring forth a motion at city council later this month to revoke the heritage permit. City staff has warned this could open the city up to a lawsuit from the owners of the hotel, CTV News reports.