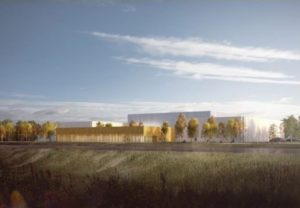 Designs have been unveiled for Parks Canada's new purpose-built collection storage facility in Gatineau, Qué.
The 8200-m2 (88,264-sf) facility will be the new home of 25 million archaeological and historical objects that are currently spread across six different facilities across the country.
About a quarter of the building is dedicated workspace for researchers and staff, as well as reception, meeting, and ceremonial spaces.
The new building will use renewable energy and incorporate sustainable and energy-efficient green building standards, making it a net-zero facility. Landscaping around the building will also use native species and dry ponds will capture excess rain water.
The design was developed by Moriyama and Teshima Architects and NFOE Architects as a joint venture.
Construction is expected to begin in the spring 2020 and be completed in 2022.