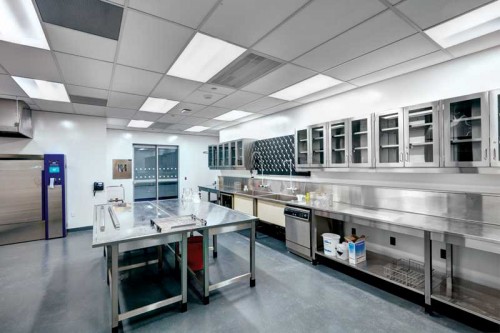 Lessons learned
The use of stone wool ceilings in academic projects in the Netherlands, Denmark, and the United States showcases the material's advantages in educational spaces.
Colour
As an accent or alternative to bright-white ceilings, colourful ceiling panels can be used to create boundaries and transitions. Visual stimulation can evoke a desired cue and response. This can be of utmost importance in academic environments where varied spaces have different tasks and functions, to avoid any confusion that can cause stress in the occupants.
For Houtens School in the Netherlands, BBHD Architecten's Ronald van Hek, noted "the colours used—including on the ceiling—made the different school functions visible. The choice of materials and colours was very important in the overall design concept."
Acoustic and esthetics
Designed by Henning Larsen Architects, Campus Roskilde of the University College Sealand in Denmark was designed to "facilitate dialogue and random meetings and provide the students with a feeling of being part of a manifold university environment beating with one pulse." The campus specializes in educating nurses, teachers, social workers, and physiotherapists.
Consisting of four square buildings, each turns slightly inward to create a more intimate and varied space around a central square. To ensure this 'many minds, one pulse' design principle did not create a raucous experience in the large indoor spaces, Henning Larsen Architects chose acoustic stone wool ceilings. Reflecting the campus individuality and connectedness, the ceilings designs mix panel sizes, directions, colours, and patterns.
Metal ceiling panels
Expanding academic facilities' ceiling design options, metal ceiling panels may be combined with stone wool panels or, in certain applications (e.g. soffits), they may be used alone. Usually, metal panels are fabricated from either aluminum or steel. They can be manufactured with square edges to lay-in to a grid, or they can have reveal edges for a more decorative look. Baked enamel and powder-coat paints can be selected in nearly any colour, including metallics and simulated wood grain patterns. Metal panels can be perforated and have an acoustic backing applied for sound absorption, or left non-perforated when sound reflection is required.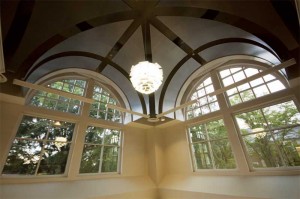 Metal panels also can be curved into customized designs. Winthrop University's Carroll Hall in South Carolina showcases a one-of-a-kind suspended, segmented, vaulted metal ceiling system. With delicate precision, the curved panels were face-mounted to a ribbed, T-bar suspension system. Meeting the FWA Group's architectural vision, the seamlessness of the ceiling creates the illusion it is flat or curved depending on viewer's perspective. Beyond esthetics, the ceiling system also offers the acoustic performance required in the 6.1-m (20-ft) high space.
Conclusion
With thoughtful specification and proper installation, stone wool ceiling panels can meet educational projects' budget, performance and sustainability requirements, while delivering a clean, neat appearance. From ease of installation to ease of maintenance, these ceiling assemblies can address both the short- and long-term goals for academic facilities. Through the years, the durability and versatility of these systems can accommodate future renovations as existing learning spaces adapt to new teaching methods, new purposes, and new technologies.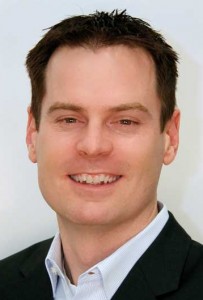 Chris Marshall is Rockfon's vice-president of marketing and business development. He helped introduce stone wool acoustic ceiling solutions to the North American market and has worked with specifiers, designers, installers, and manufacturers of stone wool products for more than a decade. Based in Toronto, Marshall earned a bachelor's degree from the University of Windsor in Ontario, and an MBA from Western Michigan University in Kalamazoo. He can be reached via e-mail at chris.marshall@rockfon.com.

Control the content you see on ConstructionCanada.net!
Learn More.