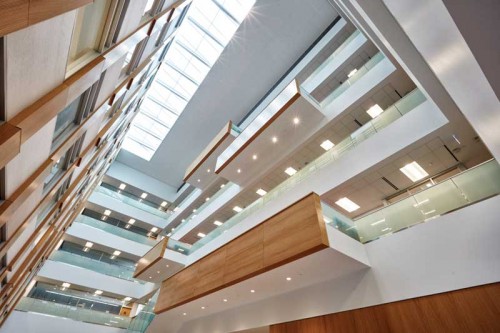 By Chris Marshall
How students learn, how faculty teaches, and how staff interacts is constantly changing in the academic world. These changes also affect how educational interiors are designed and built. Ceiling selection plays a critical part in meeting the needs of all occupants and the performance requirements of each learning space. An increased focus on collaboration and flexibility of the modern academic environment is reflected in the increased use of exterior and interior glass, large floor plans, and contiguous ceilings with a monolithic appearance.
For the past 60 years, suspended ceiling systems (or 'drop ceilings') have been the preference for most specifiers and designers in nearly every commercial and institutional application. They consist of a metal grid comprising cross-tees and main runners suspended by hanger wires from the structure above, with wall channels or angles providing a clean look around the perimeter. Panels, air diffusers, lights, and other components are then placed within the modular system.These components conceal the plenum—hiding the visible structure, suspension system, HVAC, and other equipment, while providing simple access for future maintenance.
Historically, the function of suspended ceiling systems frequently dictated their appearance. For many specifiers and designers of academic facilities, these ceilings have become synonymous with the gridwork of fissured, fibrous ceiling panels aged by stains and broken corners. Today's acoustic ceiling panels are no longer limited to the dated look of mineral fibre or fibreglass panels. Stone wool panels offer a clean, neat appearance and durable performance with sustainable benefits.
This can be seen in the new $52.5-million Environmental Science & Chemistry Building (ESCB) on the University of Toronto Scarborough Campus (UTSC), designed by Diamond Schmitt Architects. The firm's Nigel Tai, M.Arch., OAA, MRAIC, LEED AP, said he found acoustic stone wool ceiling systems to be "cost-effective and esthetically pleasing with good performance."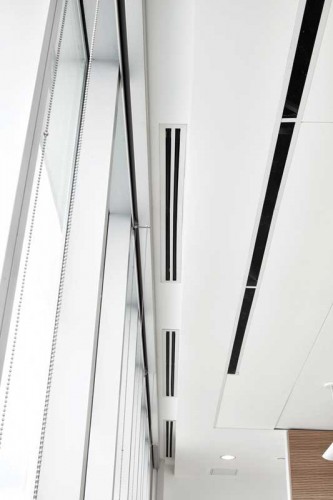 Academic performance
Located on the north campus, ESCB's science and education research hub offers master's and doctoral programs addressing environmental issues, such as climate change, groundwater pollution in urban settings, restoration of degraded environmental systems, and rising sea levels. With respect to the promise of its discipline, the building is designed and built to achieve Gold certification through the Canada Green Building Council (CaGBC) Leadership in Energy and Environmental Design (LEED) program (i.e. 2009 New Construction [NC]). Once certified, it will be the second building at the University of Toronto Scarborough to attain this internationally recognized rating.
"Being a building specifically housing the environmental science and chemistry groups within the Department of Physical and Environmental Sciences, there was no question the building would have to operate as efficiently as possible," said UTSC Facilities Management Department's project manager, Hovan Stepanian, M.Sc.
"It was a mission of mine to achieve the highest possible level of efficiency for this type of energy-use intensive building prior to the design team and contractor coming on board," he continued. "Initially, we targeted Silver—however, working with the design team, we were able to fine-tune the various sustainability initiatives to target Gold."
Aside from Diamond Schmitt, ESCB's design-build team included EllisDon Corporation. Inspired by nature, the 11,779-m2 (126,788-sf) new building reflects the academic pursuits housed within the facility, as well as its setting on the edge of a ravine. The five floors of laboratory space rely on a modular approach for flexible adaptation to future academic and technological needs.
Smooth finish, high light reflectance
Conceived as a highly flexible research and teaching space, ESCB connects laboratories and academic offices around a five-storey, sky-lit atrium. Within the atrium, boardroom, and meeting rooms, the ceiling features acoustic stone wool panels in special sizes with shiplap edge details set into an exposed 24-mm (15/16-in.) ceiling suspension system. In total, Nelmar Drywall installed 190 m2 (2045 sf) of ceiling systems in the atrium alone. An additional 1750 m2 (18,837 sf) of ceiling panels were installed through the corridors, as well as in faculty offices.
"We wanted a sharp, clean look for the ceiling surface. The hairline shiplap joint detail was important to us, along with the custom 2 x 5-ft [i.e. 0.6 x 1.5-m] proportion," said Tai. "Smooth finishes and good light reflectance were critical. We use the ceiling finishes as a reflective surface to bounce light around in the meeting rooms and boardrooms."
The smooth white surface of these acoustic stone wool ceiling panels reflects up to 86 per cent of available light, dispersing natural light more effectively. Students exposed to the most daylighting score seven to 18 per cent higher on tests than those who do not, according to a report titled "Windows & Classrooms: A Study of Student Performance and the Indoor Environment" by Heschong Mahone Group. (For more on HMG's studies, visit the firm's site at h-m-g.com/projects/daylighting/summaries%20on%20daylighting.htm).
The better distribution of light means offices can lower their light loads and reduce cooling costs, helping meet LEED's energy-efficiency criteria. This also can mean significant savings for educational facilities' overall operating costs and budgets.
For electric light, ESCB uses solely light-emitting diode (LED) fixtures. The stone wool ceiling panels are lightweight and easily cut so accommodating the numerous light fixtures and sprinklers throughout the facility was simple. With respect to fire safety, stone wool withstands temperatures up to 1177 C (2150 F). It does not melt, burn, or create significant smoke. This improves overall safety, which can limit building damage and give precious extra seconds for emergency evacuation if such an unfortunate event were to occur.

Control the content you see on ConstructionCanada.net!
Learn More.