Designing tall timber buildings to withstand tornadoes
by nithya_caleb | November 6, 2018 10:59 am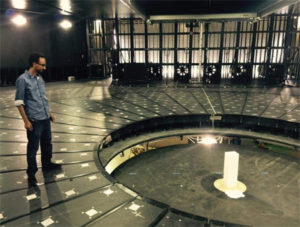 New research from the University of British Columbia's[2] (UBC's) School of Engineering[3] and Western University[4], Ont., provides a roadmap to safer tall timber building designs in tornado-prone areas.
With the exception of nuclear facilities, current building codes do not specifically address tornado risk. This is due to a variety of factors including the low probability of occurrence and costs, explains Matiyas Bezabeh, a doctoral student at UBC Okanagan[5].
However, tornados do happen. On September 25, six tornados with wind speeds between 135 and 175 km/h (84 and 109 mph) touched down in the Ottawa-Gatineau region, causing $300 million worth of damage. In 2011, a tornado in Goderich, Ont., caused about $110 million in damages according to insurance estimates.
America's Wind Hazard Reduction Coalition said tornadoes claim nearly 100 lives each year in the United States and account for nearly a billion dollars in property damage.
"The potential damage of tornadoes is extensive, so as structural wind researchers we have been turning our attention towards tornado-structure interactions and tornado-induced wind loads on civil structures in recent years," explains Bezabeh.
In collaboration with Girma Bitsuamlak, research director at the WindEEE Research Institute[6] at Western University, and Solomon Tesfamariam, engineering professor at UBC Okanagan, Bezabeh investigated the impact of tornado-like winds on structures. His research focuses on mass-timber buildings—those constructed with cross-laminated timber (CLT) for walls and floors and glued-laminated (glulam) products for beams and columns.
In Canada and the United States, the intensity of tornadoes is measured using an Enhanced Fujita scale (EF scale) based on the damage caused. According to research, buildings designed to a 1-in-50-year wind load can withstand weaker tornadoes with a low EF-scale—wind speeds less than 75 km/h (47 mph)—but do not fare as well against tornadoes with higher intensities.
"Increasing the lateral stiffness by adding core walls and bracings could enable mass-timber buildings to withstand higher intensity wind loads," says Bezabeh. "Further, increasing the dead weight of buildings and incorporating tension piles (rock anchors) as part of the foundation system can also lower the risk of collapse."
While his research was specific to mass-timber frames, Bezebeh points out his results address potential mitigating factors for all types of buildings. Bezabeh's research was recently published in the Journal of Wind Engineering and Industrial Aerodynamics[7].
He is already looking ahead to the next stage of his research where additional experimental tornado tests will be conducted on an assortment of low-, mid- and high-rise mass-timber building models to develop a performance-based tornadic design framework.
Endnotes:
[Image]: https://www.constructioncanada.net/wp-content/uploads/2018/11/opener-3.jpg
University of British Columbia's: https://www.ubc.ca/
School of Engineering: http://engineering.ok.ubc.ca/
Western University: https://www.uwo.ca/
UBC Okanagan: http://ok.ubc.ca/
WindEEE Research Institute: https://www.eng.uwo.ca/windeee/
Journal of Wind Engineering and Industrial Aerodynamics: https://reader.elsevier.com/reader/sd/pii/S0167610518301156?
Source URL: https://www.constructioncanada.net/designing-tall-timber-buildings-to-withstand-tornadoes/
---