While moulded plastic drainage boards with reservoirs can also store water, the total capacity is usually low, at around 5 kg/m2 (1 psf) for each 25 mm (1 in.) depth compared to 10 kg/m2 (2 psf) for typical growing media. This is because it must remain relatively open to perform its primary function to divert excess water off the roof. Therefore, drainage layers with built-in water reservoirs usually play a smaller role in a vegetated roof assembly's water-storage capacity.
Conclusion
A green roof is recognized by many municipalities as part of their stormwater management strategy. Policies such as bylaws and incentive programs have been effective in encouraging green roof implementation in North America. While prescriptive-based policies that require a minimum growing medium depth are easier to deploy and manage, objective-based policies that mandate specific performance are likely to be more effective in achieving stormwater management goals and maximizing the benefits of green roofs.
Advances in green roof technology have provided designers with many options to increase water-storage capacity of green roofs (and thus their water management potential), such as water retention fleece and mineral wool, drainage/retention boards, and water-absorbent soil additives while keeping the system weight low. These offer opportunities in greening lightweight structures that would otherwise be impossible with traditional growing-medium-based vegetated roof systems.
Sherway (Rooftop) Gardens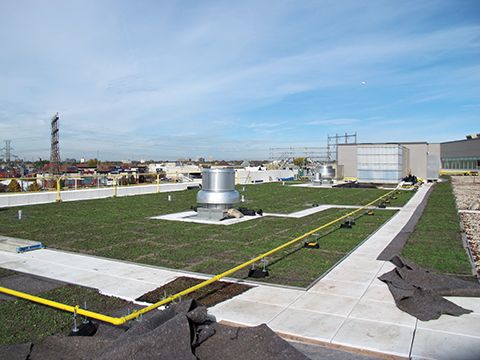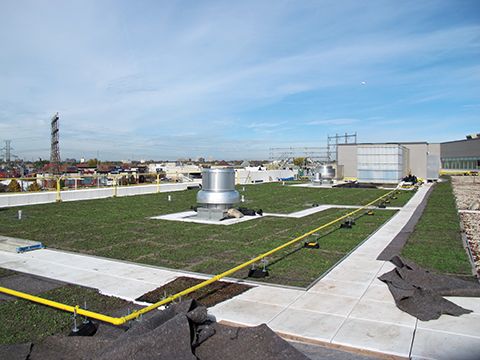 The new green roof on the Sherway Gardens Shopping Centre expansion at 9500 m2 (102,260 sf) is the largest vegetated roof on a single, freestanding commercial structure in the Greater Toronto Area (GTA). One of the main reasons behind the green roof installation is the building's owner wanted to reduce stormwater runoff from the roof.
The selected roof assembly comprises a root barrier, a 3-D entangled coil drainage mat, two layers of recycled polymeric water-retention fleeces, and a pre-cultivated sedum mat. At a total profile of 65 mm (2 9/16 in.), the system weighs 60 kg/m2 (12 psf) at saturation with a maximum water storage of 36 L/m2 (0.88 gal/sf). The sedum mixture was specially selected for their heat/drought tolerance and all-year-round visual interests. The green roof is not irrigated.
The 2014 Toronto Green Roof Construction Standard states: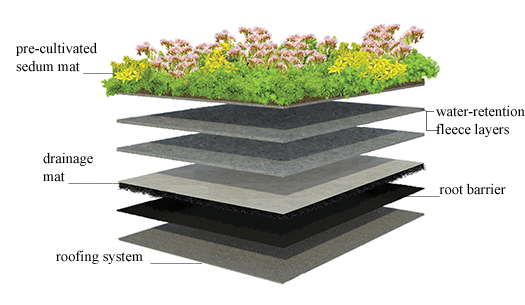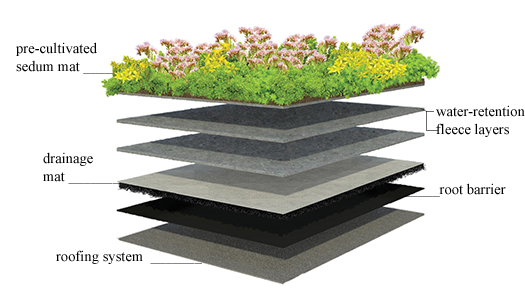 For a successful green roof, the design and selection of growing media, irrigation systems, and plantings must be carried out as a system.
In particular, City of Toronto By-law No. 383-2009 & 492-9K mandates the following:
In order to support plant survivability:
(1) When structurally possible, the growing media shall be at a minimum 100 mm, or
(2) The Applicant shall provide a report confirming that the engineered system as designed provides plant survivability comparable to that of an un-irrigated system with growing media at minimum 100 mm.
While the system does not contain a minimum of 100-mm (4-in.) growing medium required in (1), it meets the city's requirement as per (2). Typical green roof growing media have a water retention capacity of 8 to 10 L/m2 (0.19 to 0.24 gal/sf) for every 25 mm (1 in.) depth. Therefore, 100 mm (4 in.) of growing medium has a water-retention capacity of 32 to 40 L/m2 (0.76 to 0.96 gal/sf), which is similar to the 36-L/m2 (0.88-gal/sf) water storage capacity found in the lightweight pre-grown mat system selected for this project. However, while 100 mm (4 in.) of green roof growing media weighs 100 to 140 kg/m2 (20 to 29 psf), this lightweight system weighs only 60 kg/m2 (12 psf), offering significant weight saving for the building structure.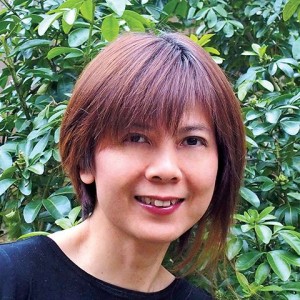 Karen Liu, PhD, is the product manager for Bonar Xeroflor. She has been conducting green roof research since 2000 when she was a research officer at the National Research Council (NRC) in Ottawa, and led the green roof research team at the British Columbia Institute of Technology (BCIT) in Vancouver. Liu established the first North American field facility dedicated to green roof research and conducted several field studies across Canada to study the climate sensitivity of the technology; she now focuses her work on product development at Xeroflor. Liu has been awarded CSC's F. Ross Browne Award for a previous piece in Construction Canada. She can be contacted via e-mail at karen.liu@xeroflor.com.

Control the content you see on ConstructionCanada.net!
Learn More.