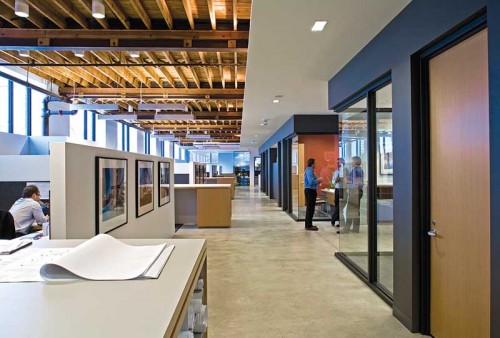 By Matthew Reid, MASc., P.Eng., and Cory Zurell, PhD, P.Eng.
For more than a decade, urban renewal has seen the renovation of former manufacturing facilities into trendy loft-style offices, condominiums, and apartments. Most of these buildings belong to the 'brick and timber beam' vernacular constructed in the first half of the 20th century. Many constraints govern the design of any building, but a renovation involves the most significant—the building already exists.
These brick-and-beam buildings vary widely in terms of construction quality, materials, past performance, and ongoing durability. With older buildings, one must be cautious of developers who have contracted 'strong old building' syndrome—just because the building is old does not justify the assumption it was well-built and will last forever. As a result, educating owners and architects sometimes becomes part of the structural scope of work.
In repurposing former manufacturing facilities, the renovation usually involves a change in occupancy. In Ontario, such work falls under the Ontario Building Code's (OBC's) Part 10, Change of Use, and Part 11, Renovations.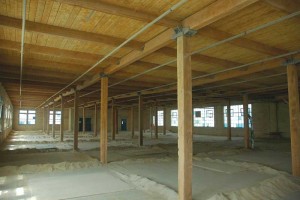 Adapting an historical structure for today's needs, considering current building standards and architectural intent, involves several significant issues. Three particular ones—fire, sound, and structural capacity—are more sensitive in the reuse of buildings when the existing structure is timber, or when timber is the desired solution for an addition. Inter-related, these all directly impact the architectural design and performance of the renovation or addition.
Fire safety
The Ontario Building Code requires evaluation of the building's fire safety when a renovation occurs. An experienced code consultant is valuable for establishing the fire protection and occupancy safety requirements, even when a change of major occupancy does not occur. The code consultant writes a report outlining how the architect should apply OBC Part 3, Use and Occupancy, which relates to the fire protection and occupant safety of any extension made to the existing building, alongside the requirements of OBC Part 11, which outlines the requirements for the existing portion of the building. Part 11 uses the term "performance level" for structural evaluation, early warning/evacuation system requirements, and fire protection to determine whether an upgrade is required.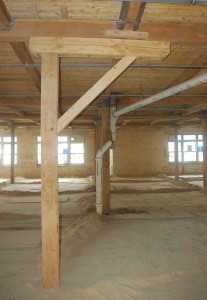 Employing a code consultant can produce significant returns in some cases. On a project worked on by one of the authors, the code consultant was able to navigate through the code requirements such that the change from industrial to residential occupancy produced a reduced hazard index (HI) and, thus, the work was regarded as a "minor renovation." This result allowed a non-combustible partial fifth storey to be added to the four-storey timber-framed building. Without the "minor renovation" result of the code report, this addition would not have been possible.
When there is a change of "major occupancy," as defined by OBC Part 10, the building is required to be classified as to its construction type, which is called its construction index (CI), and as to its occupancy type, which is called its hazard index. The CI is compared to the HI to determine if an upgrade to the building is necessary; if the HI is higher, an upgrade is required.
The building's construction index is given a number between one and eight, where one is the lowest fire protection performance level. The construction index has two parameters: fire-resistance rating (FRR) and type of construction. The type of construction is a choice between combustible and non-combustible.
The hazard index, like the construction index, is measured on a scale of one to eight, and is designated as the life safety hazard to occupants. The hazard index is defined by the occupancy group and building size. For adaptive reuse, one commonly sees an occupancy Group F (low-hazard industrial, manufacturing) change to either Group A (assembly areas such as schools) or Group C (residential areas).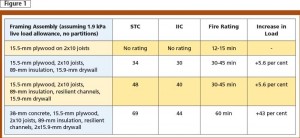 As a combustible material, the current code limits timber with respect to its construction index. The highest level timber can receive is a CI of five. It does not matter if the building controls flame spread, as defined in Part 3 and not considered under Part 11. The common case is an historic manufacturing building of heavy timber with a CI of five, which requires an HI of six. Part 11 has compliance alternatives, so an alteration to the building can still occur. A common solution is to provide a sprinkler system.
The construction index also does not consider the potential of a non-combustible assembly that includes combustible material. For example, a floor assembly of concrete topping on plywood and wood joists with two layers of fire-resistant gypsum board ceiling is considered combustible. However, an alternative solution could be submitted to demonstrate the floor assembly meets the objectives of the fire protection clauses.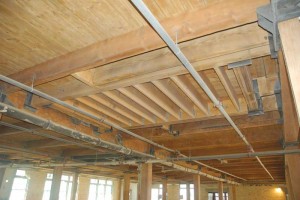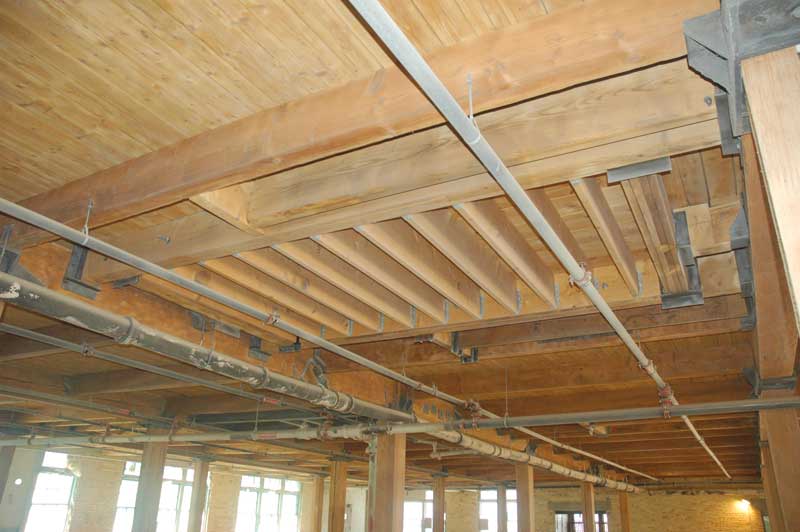 The 2005 National Building Code of Canada (NBC) has taken its first steps toward a truly objective framework by introducing objectives and function statements, thereby allowing alternative solution submissions. If one wants to preserve and expose historical elements during an adaptive reuse conversion, then designers must be more comfortable knowing how to formulate an alternative solution submission. As time progresses and the construction industry becomes used to objectives and function statements, alternative solution submissions will be completed quite easily, and become just one more step in the design process.
Sound transmission
The material benefits of timber include a relatively high strength-to-weight ratio. This acts against performance in terms of sound transmission; the lack of mass hurts the structure's ability to attenuate both ambient and impact sounds. In historic manufacturing facilities, sound transmission would rarely have rated consideration. In repurposing such a facility, upgrading sound transmission ratings between floors is frequently necessary when residential occupancy is considered, and usually affects structure.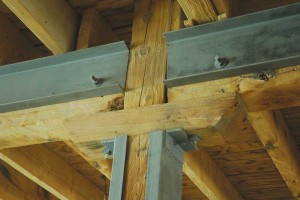 The NBC stipulates a sound transmission class (STC) rating of 50 between units for multi-family residential buildings (increasing to 55 at elevators). No impact insulation class (IIC) is specified, but good practice is a rating of 55 to 65. (See "Wood Frame Construction, Fire Resistance, and Sound Transmission," by Forintek Canada Corp, Societe d'habitation du Québec and Canada Mortgage and Housing Corporation, 2002). For other occupancies, there is no guidance provided in the code, but best practices are established. There are several possible methods to increase the STC and IIC ratings of an existing timber structure, including:
adding a concrete topping for additional mass, affecting structural capacity, including seismic performance;
installing a suspended gypsum board ceiling (again, for additional mass) to cover timber that may otherwise be exposed and esthetically appealing; and
providing a floating floor such as hardwood on a resilient underlay (a minimal effect structurally, though less effective in terms of attenuation than the other options).
The sound performance ratings of various assemblies are provided in NBC. For example, ratings of select light-frame wood assemblies are given in Figure 1 for comparison.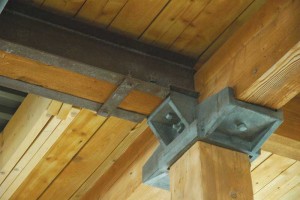 Depending on the condition and capacity of an existing structure, a substantial increase in dead load may not be of tremendous concern. If the original load capacity was high, there will not be a problem. However, this is precisely the issue—old buildings do not necessarily have the capacity one would expect, regardless of the previous occupancy.
Structural capacity
Under Part 11, OBC requires the completed building to maintain its level of structural performance. An existing performance level is considered to be reduced if the existing structural systems cannot adequately support the proposed loading that is caused by the renovation, and when:
there is a major occupancy change;
the occupant load has been increased by more than 15 per cent; or
the live load has been increased due to change in use within the same major occupancy group.
Assessing the structural capacity of existing buildings is simple when the original structural design drawings exist. When it comes to pre-1950 buildings, this rarely happens with any type of construction, much less with the brick-and-beam type of buildings of the early 1900s. It is likely a structural engineer did not design the building in the first place and structural drawings may never have existed. With the original design intent and criteria lost to the ages, and complicated by varying quality of regulation at the time of construction and inconsistent structures, assessing the capacity and adequacy of the structure falls to the design team to complete the renovation.

Control the content you see on ConstructionCanada.net!
Learn More.