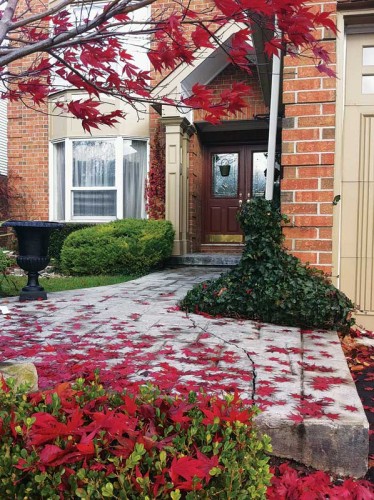 By Bill Hutt and John Pace, PE
With respect to architectural trim, columns, pergolas, trellises, and other ornaments, the last decade has seen growing interest in alternatives to traditional wood products for residential projects. With the costs of construction and materials steadily climbing, and the long-term performance of components made from increasingly inferior wood continually being called into question, the attention of a growing number of design professionals has steadily shifted to cellular polyvinyl chloride (PVC).
Cellular PVC offers many of wood's performance and handling characteristics, and couples them with an essentially infinite lifespan. It is impervious to moisture, will not rot, and is also resistant to mould, insects, and most chemicals. Cellular PVC will not burn without a flame source to keep it ignited. Further, it will not degrade under normal exposure to sun and other environmental elements. Combined, these attributes are convincing many builders and designers to abandon traditional materials and start specifying cellular PVC products for a wide variety of exterior architectural applications.
Understanding the differences with cellular
A baking analogy can be used to differentiate rigid PVC from cellular PVC. Yeast makes dough rise; one can consider rigid PVC (typically used to produce siding or windows) to be unleavened bread or flatbread, with no rising agents. When a foaming agent is added to the rigid PVC compound via a 'free-foam' process, it acts like yeast in dough, resulting in a 'raised' board—a cellular product.
Cellular PVC can be produced in thicknesses ranging from 6.4 to 31.75 mm (1⁄4 to 11⁄4 in.) in sizes ranging from 4x sheets as long as 6.1 m (20 ft) to dimensional lumber sizes such as 6⁄4x, 5⁄4x, and 1x in nominal widths from 51 to 406 mm (2 to 16 in.). Rigid PVC and cellular PVC are both produced on an extruder equipped with either a sheet or profile die. However, the extrusion process and downstream equipment used to produce and finish each product are totally different. In addition, compound formulations for each type of PVC have some subtle differences due to the processing method used to produce them, as well as the finished product you are trying to extrude.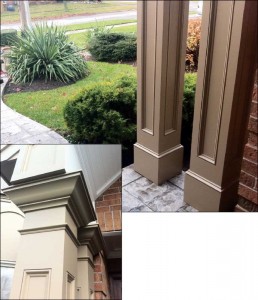 There are many manufacturers of this material, with a wide range of product performance qualities. Some materials are essentially foam cores with laminated exterior finishes, while some are profoundly malleable or rigid. Still others have uneven surface qualities. Most cellular PVC is available in four thicknesses—9.5, 13, 19, and 25 mm (3⁄8, 1⁄2, 3⁄4, and 1 in.).
Some manufacturers' products have achieved processes that alleviate yellowing on the board edges, while others still have this discolouration or scorching. With PVC as the starting point for creating products, it deeply widens the opportunities when laminating together multiple layers to form thicker components or to accomodate structural reinforcements.
In more desirable cases, cellular PVC products are designed to the individual project's specifications and engineered to be packed flat, simplifying shipping to the worksite. Proprietary technology then allows fast and easy site assembly.
To work properly and to provide absolutely smooth, perfectly aligned joints during the chemical bonding process that permanently locks components in place, these must be made of a PVC material with enough flexibility to allow pieces to slide into the locked position, as well as possess enough rigidity to hold them in place. The products must also be capable of being run through a trimwork provider's tongue-and-groove equipment without exposing an unfinished core for the absolute best-finished product. No sanding is required to create a perfectly smooth finished surface suitable for painting or attractive enough to be left in its natural white colour.
New angles on squared columns
Aluminum and fibreglass columns offer significant structural capabilities that vinyl and PVC simply do not. However, if these products are subjected to any structural impact or penetration—even something as minor as a screw being installed in the wrong place—the load capacity may be affected, the integrity of the column compromised, and the warranty impacted. When this happens, there may be no other choice than to pull the column out and find a replacement (which can be difficult, as it would need to tie in other architectural features). Additionally, aluminum and vinyl columns are prefinished, which restricts selection to three or four stock colours.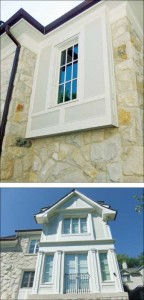 When rigid vinyl products are used to clad column cores, they are often prone to fracturing, particularly during the cold winter months. While vinyl is available as pre-coloured, one is restricted to the four or five hues offered by the three primary manufacturers. Since vinyl is notoriously difficult to paint, esthetic compromises usually need to be made. Further, like fibreglass and aluminum, vinyl often means being limited to the standard sizes offered by manufacturers—anything else needs to be cobbled together.
PVC columns are always intended to wrap around a load-bearing post. PVC can be drilled to accommodate architectural details or connections to other components without turning into scrap. (Since the vinyl itself is not load-bearing, drilling into it does not affect its structural capabilities.) This means columns with a significant amount of applied detail can be created without worry of structural compromise. One can also create column surrounds to accommodate a structural column or post of any height, which expands the creative potential.
For designers wanting to customize colour palettes to their clients' requirements, cellular PVC can be easily painted. The free-foam cellular PVC process allows finished sheets or boards to be produced with extremely low surface gloss, enabling acrylic latex paints (with or without urethane) to adhere to them. (Latex paints stretch and move with the boards, whereas oil-based paints are more brittle and lack flexibility.) It is important to be aware it can take days or weeks for paint to fully cure after it is applied to cellular PVC—unlike wood, the plastic material is impervious to moisture. Based on testing performed by several national paint manufacturers, paint on cellular PVC will last five times longer than on wood, due primarily to the fact that paint blisters on wood as a result of the moisture content of the wood. Since there is no moisture in cellular PVC, there is no catalyst to cause the paint to blister.
Cellular PVC is produced in sheet form, and can be cut into boards in just about any width. Rigid PVC, on the other hand, is limited because it is produced on much smaller extruders with smaller profile or sheet dies, and much shorter and narrower downstream systems. As cellular PVC can come in custom sizes up to 1219 mm (48 in.) wide, it has fewer seams and a cleaner appearance when column faces are milled and installed. The authors have been part of a team that has custom-designed a wide variety of column components, including some up to 12.8 m (42 ft) in length.

Control the content you see on ConstructionCanada.net!
Learn More.