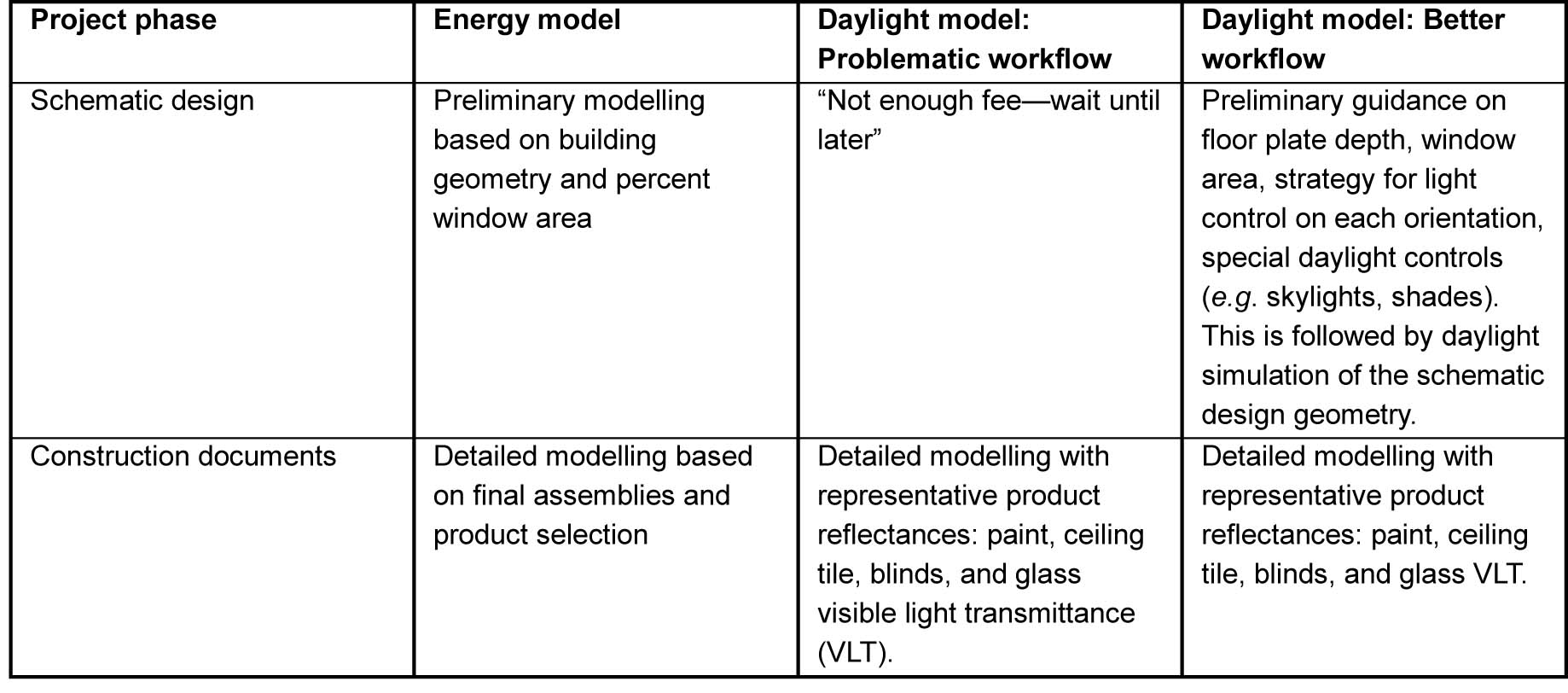 Design process
The daylighting design process requires co-ordination with the team at key points in the project. The design process follows a series of steps (schematic, design development, and construction documents) where key decisions of increasing levels of detail are made and costed.
The process for energy modelling follows these same design phases. Where there is a design energy target, teams prepare preliminary models at the schematic phase to give guidance on major systems, building geometry, and window area percentage. This means after schematic design, a change such as increasing the amount of window area can significantly penalize the project's energy performance.
The daylight modelling process needs to follow the design process, as well as co-ordinate with decisions made on the energy model. As indicated in Figure 8, direction is needed on the daylight strategy at schematic design to have meaningful input to the overall project's daylight performance. By the construction documents phase, only minor changes are able to be made to increase daylight levels.
Design-build and P3 projects are increasingly including daylight targets as part of the project requirements. If the owner and compliance team are serious about achieving these daylight targets, there are several important steps to follow:
ensure that the indicative design will meet the daylight target;
include daylight simulation results of the indicative design for reference by the bidding teams;
include products/ systems used for the indicative design in pricing. Items such as exterior fixed shading, skylights, will affect cost; and
provide incentive for teams to comply such as explicit scoring related to meeting daylighting performance and/or extra points for achieving better performance.
These steps are crucial for the owner and compliance team to understand what the daylight target is and how important it is to the client. An aggressive daylight target could require a narrower footprint, increased glazing area, and additional elements for shading and glare control. The team needs to ensure the selected footprint depth can functionally work for the building occupants, can fit on the project site, and can work within overall cost and energy targets. Daylighting can bring great benefits to occupant well-being, and it needs to be fully included in the design process in order for anything other than 'what usually happens' to be built.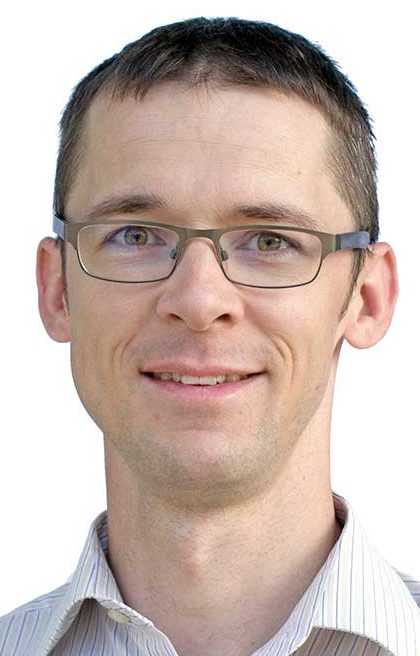 Marc Trudeau, Architect AIBC, LEED AP BD+C, is a building performance consultant at Stantec. He focuses mainly on strategies to achieve energy and sustainability targets for buildings. Trudeau contributes to projects through energy modelling for design assistance and standards compliance, daylighting simulations, and life cycle assesment studies. He has been a LEED accredited professional since 2003, and is a reviewer for Canada Green Building Council (CaGBC) Leadership in Energy and Environmental Design (LEED) submissions. Trudeau can be reached at marc.trudeau@stantec.com.

Control the content you see on ConstructionCanada.net!
Learn More.