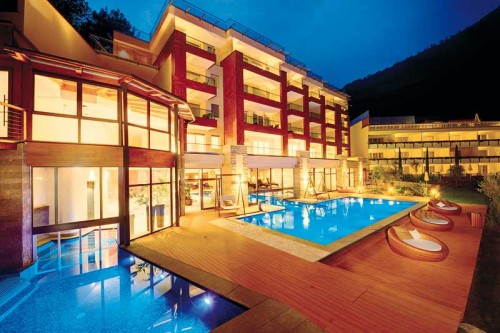 By Tamar Royt, BA, LLB (JD), MBA
A relatively new product in the construction industry, rice husk-based materials are rapidly becoming a viable replacement to hardwoods for outdoor flooring, cladding, and fencing. Aside from the environmental benefits of saving forests by reusing rice husks (a waste product difficult to dispose of), rice husk has unique properties that make it more stable and resilient than hardwoods.
With esthetic developments in recent years, rice-based materials are becoming increasingly visually appealing and almost indiscernible from natural wood. With a growing list of successful applications in Europe and North America, rice-based materials are likely to become commonly used within the next five years as more innovations are developed. For now, it is increasingly being used as a replacement for exotic hardwoods such as ipe and teak, particularly for outdoor areas.
A plentiful grain with unique qualities
Husks (also known as 'hulls') are the hard, protective coverings that shield the grain during the growing season. For every tonne of rice produced, one quarter tonne of rice hulls are left behind. (For additional information, see www.recycledrice.org). Once ready for consumption, the hull is removed from the rice and becomes a waste byproduct.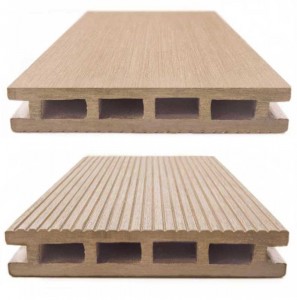 When one considers annual worldwide rice production is estimated at 680 million tonnes, it becomes clear these husks are plentiful. (See www.wikipedia.com). Mostly indigestible to humans or animals, rice husk is made of hard materials, including opaline silica, and lignin. Burning the hulls is incredibly difficult as rice husk is impenetrable and slow to burn. This is despite the fact it is primarily a very 'dry' product with a very low moisture level. Ironically, all these so-called difficulties with disposing of rice husk make the material ideal for building products.
Firstly, it is precisely because of its unattractive qualities as a food source that it lends itself so well to construction. As no living organism can obtain nutrients from it, it essentially acts as a repellent to termites. Further, rice hulls are a Class A insulating material because they are difficult to burn. Finally, because of its low moisture content (MC), this material is less likely to allow moisture to propagate mould or fungi.
According to Paul A. Olivier, PhD, a recycling engineer who built the first modern house (Washington, La.) using rice hulls as insulation, the materials are unique within nature. They contain about 20 per cent opaline silica in combination with a large amount of the phenyl propanoid structural polymer called lignin. It is unusual as a cereal byproduct as the husks are incredibly low in both protein and carbohydrates (hence its poor nutritional value and lack of appeal to termites), yet incredibly high in crude fibre. Of all the cereal byproducts, the rice hull has the lowest percentage of digestible nutrients. (See B. Juliano's Rice: Chemistry and Technology, p.695 [1985]).
ASTM testing conducted by consulting and testing company R&D Services (Cookville, Tenn.) (For more information, see "The Rice Hull House" by Paul A. Oliver, PhD. Visit www.appropedia.org/Rice_Hulls_in_Construction).revealed rice hulls:
do not easily flame or smoulder;
are highly resistant to moisture and fungal decomposition;
do not transfer heat very well;
do not smell or emit gases; and
are not corrosive with respect to copper, steel, or aluminum.
According to the National Electrical Manufacturers Association (NEMA), in their raw and unprocessed state, rice hulls constitute a Class A or Class I insulation material. Therefore, testing concluded they can be used economically to insulate walls, floors, and roof cavities.  As insulation, rice hulls are essentially fireproof and have a thermal resistance of about R-3 per inch (0.5 RSI) and make for a great vapour 'buffer.'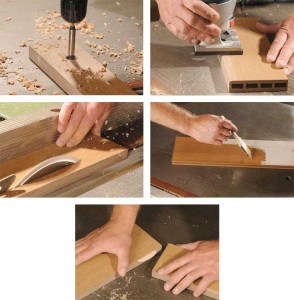 Construction experience
In Asia, inroads have been made for mixing rice husks with plastics to build low-cost homes. With the National Research Council of Canada Institute for Research in Construction (NRC-IRC), a Canadian company had developed different rice husk and wood-plastic composites (WPCs) that use either recycled or 'virgin' unused plastic. (See "Rice Husk Panels Turn Waste into Wall: A Housing Idea from the World's Most Consumed Grain," from September 25, 2007, by CanWest MediaWorks Publications).
There are several methods used to convert rice husk into building materials. Most, if not all, involve some use of plastics—either polyvinyl chloride (PVC) or polyethylene. Some manufacturers use recycled polyethylene (sometimes in combination with glass spheres), while others rely on PVC as it is longer lasting and more durable. Both methods claim environmental advantages for the use of their plastic of choice. Although polyethylene may be recycled, it is not as durable and long wearing as PVC. The environmental disadvantage of PVC, however, is it is difficult to dispose of. On the other hand, the argument is made that the objective of a construction product is to be indestructible, and building a long-wearing and durable material is key to avoiding waste and so some prefer the PVC component.
Esthetic appeal
As established, rice husk and, in particular, rice composite products, have been under development and some have been used for more than a decade. However, it is the recent developments and improvements in the look of composite rice that have led to the rising popularity of this material in architectural finishes.
A German outdoor furniture manufacturer has been redefining the use of composite rice in materials in applications where strong esthetic appeal—not just durability and strength—is critical. Teak is a commonly used material in furniture construction, but although considered a durable wood, teak is far from perfect. Prone to fading in harsh sun and somewhat susceptible to rotting and splintering, teak presented several problems, particularly in markets where the long summer and bright sun took its toll (e.g. South Africa and Australia).

Control the content you see on ConstructionCanada.net!
Learn More.