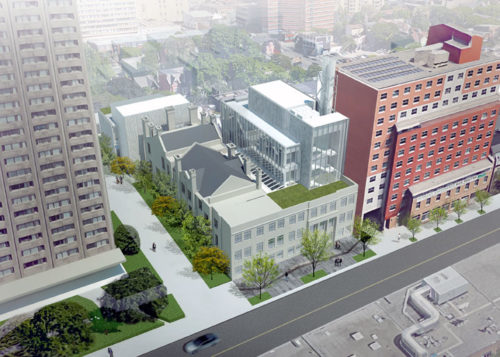 Last month, the design for Ryerson University's new Centre for Urban Innovation (CUI) was revealed. This 3716-m2 (40,000-sf) interdisciplinary facility will house faculty and student research in urban and alternative energy, water management, food production and nutrition, data analytics, and infrastructure, transportation, and logistics. It is set to open in Toronto in September 2018.
"The striking design of the Centre for Urban Innovation preserves the building's rich history while transforming it into a modern state-of-the-art research facility," says Mohamed Lachemi, Ryerson's president and vice-chancellor. "We are grateful for the investments from the provincial and federal governments, which will create new spaces and opportunities for Ryerson researchers to collaborate on finding solutions to critical urban issues."
Designed by Moriyama & Teshima Architects (MTA), the planned centre will add new components while also preserving the existing building's historical elements. Originally built in 1886 (and acquired for Ryerson's department of architectural technology in 1963), this three-storey structure was the first school of pharmacy in Canada and, at one time, the profession's only teaching centre.
Although major spaces such as the building's 19th-century lecture hall and original 1880s lab will remain, the design will also add two vegetated-roofed research structures connected to the original building. The project is targeting Silver under the Leadership in Energy and Environmental Design (LEED) program and is funded by a $19.8-million investment from the federal government.
"The materiality and details for the building and its interiors are meant to convey a light touch that draws from the innovative nature of the Centre," says Carol Phillips, lead architect at MTA. "The new additions will be distinguished by metal elements, glass, and wood to express the aspirations of the program: efficiency, clarity, and lightness in our use of energy and resources for sustainability and health."