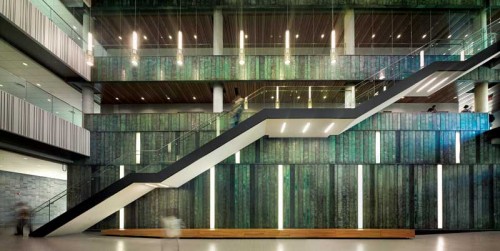 By Stephen Knapp, B.Tech., Arch. Sci., M. Arch.
Copper, brass, and bronze can be ideally suited for wall cladding applications. These materials are strong, lightweight, malleable, highly corrosion-resistant, and available in numerous factory-applied alloys to achieve unique finishes and colours. With these important attributes, this family of metals can be used in many building designs.
In recent years, architects and contractors have become more creative in how they employ copper as a cladding component. They have produced installations by adapting roofing methods for wall applications, mixing and matching different techniques to create one-of-a-kind systems, and specifying different alloys to achieve distinct features.
For example, a pre-patinated copper wall cladding assembly provides a distinct look to the interior and exterior façade of the new educational facility at University of Toronto's (U of T's) campus in Mississauga, Ont. The building's material expression was created by interlocking vertical copper planks of various widths and randomly arranging them into groups, giving it a panellized appearance. The copper rainscreen cladding provides a rich vertical expression that reads at a variety of scales, blending in with the natural landscapes surrounding the campus.
The rising trend of wall claddings is illustrated by the growing number of projects submitted to the North American Copper in Architecture (NACIA) awards program, organized by the Canadian Copper and Brass Development Association (CCBDA) and the U.S. Copper Development Association (CDA).
"Different alloys, pre-patinated panels, challenging installations, and impeccable craftsmanship are all part of this wall cladding trend we've recognized through the NACIA program," says Andy Kireta Jr., CDA vice-president.
Increased use of copper
Aside from being durable and long-lasting, copper is also completely recyclable. Additionally, it is extremely corrosion-resistant, enduring in salty conditions and areas with a great deal of acid rain.
Copper sheet metal products—such as gutters, cladding, flashing, and other roofing applications—can be repeatedly recycled without losing their physical attributes. In fact, more than two-thirds of copper in architectural, decorative, and plumbing tube products is derived from recycled scrap, according to CDA.
Installations relying on copper components can typically be seen as more sustainable than alternatives. The durability and recyclability of the material usually makes copper more cost-effective in the long run.
Copper roofing applications have also been adapted for wall claddings and most wall assemblies share many of the same basic installation techniques as copper roofing systems. They are generally installed over a continuous, nailable substrate that is covered with 13.6-kg (30-lb) asphalt-saturated felt. A rosin-sized building paper is then laid over the felt to keep the copper siding or panels from bonding to it. This means flat, circular, and other-shaped walls can easily be covered with copper cladding.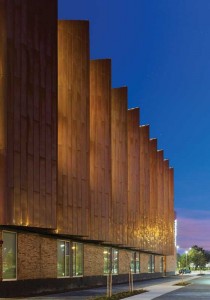 Most copper cladding applications can be field-formed from sheet material, and many are pre-manufactured and transported to the building site. Additionally, there are many pre-engineered assemblies from various Canadian, U.S., and international manufacturers. These include insulated, non-insulated honeycomb, and copper screen panels.
Structural wall claddings have also been developed. In these cases, such applications become an integral part of a wall and must be properly engineered and installed to satisfy all structural and building code requirements.
The copper wall cladding details examined in the article are generic in scope and are meant to convey basic design concepts. It is the project team's duty to take these fundamental concepts and apply them to tangible construction building projects. The terminology may differ in meaning for various building projects—'siding' and 'panel' are employed to refer to components in the details. However, their use may not reflect established regional definitions.
Fasteners
There are three methods to fasten copper to a substrate: cleating, nailing, and screwing. All fasteners should be of copper or copper alloy (e.g. brass or bronze) except for washers and expansion shields, which are lead, bronze, rubber, or plastic. Fasteners of a neutral, stainless-steel alloy are also acceptable.
Cleating
Cleating is the most commonly used method, because it allows the copper to move, minimizing potential for buckling. Cleats are usually made of 454-g (16-oz) copper, although they do not need to be heavier than the material being secured. Cleats made of compatible stainless steel are also suitable.
Two types of cleats—fixed and expansion—can be used. Fixed cleats allow a small amount of movement, while expansion cleats typically allow up to 19 mm (3/4 in.) total movement, and are usually suitable for short-pan (i.e. individual roofing surface or unit) construction, while long pans require expansion cleats. Cleats are typically spaced at a minimum of 305 mm (12 in.) on centre (oc).
Nailing
The nailing method is predominantly used where movement is not desired; it can only be employed on cleats and copper strips up to 305 mm wide. Only one edge of a strip should be nailed, as this allows movement perpendicular to the line of nailing. They should be spaced no more than 76 mm (3 in.) oc to provide continuous resistance to thermal stresses. All nails should be flathead, wire-slating nails, at least 25.4 mm (1 in.) long, and a minimum of 12-gauge, 2.8-mm (0.11-in.) thick, hard copper, brass, or bronze. Those used in wood should be barbed; nails used in concrete or gypsum should not. Surfaces with poorer nail-holding qualities require longer, stronger nails. The manufacturer should be contacted for the right nail to use with such material.
Screwing
The screwing method is used when the copper must be held rigidly in place, such as at a ridge cap subject to severe wind vibrations, or as a hold-down for large, flat, copper areas. It is also employed to secure copper to masonry when expansion shields are required.
Screws should be made of stainless steel, bronze, or brass; they must have round heads and flat seats, that will not puncture the copper. Lead washers may be used for additional protection and, where watertightness is required, a small copper cap is soldered over the screw head. Installation equipment and tools include:
pan-former;
standing-seam-former;
batten-seamer;
powered curving machine;
automatic brake;
portable brake; and
gutter-forming machine.

Control the content you see on ConstructionCanada.net!
Learn More.