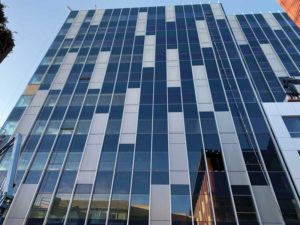 Performance and testing requirements
At some stage during their design and development, all curtain wall systems should be tested for air infiltration, water penetration, and structural performance (including frame deflection limits) at the wind loads applicable for the building site. Particularly for custom designs, a preconstruction mock-up test should be scheduled well in advance of the final production schedule for a building, affording ample opportunity to make corrections relatively easily and less expensively.
Section 2: Product
The product section describes the framing material (metals, finishes, and protective coatings), glazing materials, system configuration, and components such as anchoring fasteners. Fabrication requirements also should be specified to include requirements for the desired degree of factory assembly and/or glazing, mechanical fastening, and sealing of joints. Third-party specifications for such items are listed.
Section 3: Execution
This section covers specifications requirements for matching and anchoring the wall to the building structure, such as erection tolerances and clearances, plus requirements related to site installation, such as welding, sealing, glazing, insulating, protecting, cleaning, and other on-site work. To guide the wall contractor, the guide specification covers the provision of building perimeter offset lines on each floor and benchmarks to be scribed on each floor on a designated column.
Optional requirements
Language for a variety of optional project-specific requirements is included in the guide specification. Some examples include unitized system requirements, green documentation (sustainable design), pressure-equalized design requirement, sound transmission, site testing requirements, as well as use of building information modelling (BIM) software.
Other publications specific to the Canadian market, are:
• Glass and Metal Curtain Walls Best Practice Guide – Building Technology
Referenced above, this is one of a series of CMHC's technical publications. It covers materials, types of curtain wall systems, basic performance aspects, test methods, and quality control. The guide includes a guide specification NMS089020 (2000).
• Glazing Systems Specifications Manual (National Version)
Originally published by the GCABC in the early 1990s, the Fenestration Association of British Columbia (FEN-BC), has initiated a revision to comply with the 2020 NBC. It should be noted the Glazing Systems Specifications Manual is not specific to Part 9 Buildings. It is not based only on CSA A440 and on the NBC.
The guide specifications provided with these publications are quite like that in AAMA CWM-19, but reference traditional Canadian versus international standards for specific materials and testing.
Glass and metal curtain walls are highly engineered, and factory-built to close tolerances. Installation requires the placement of these precision-built parts on a structure are built to much greater dimensional tolerances. As such, proper and timely communication among the members of the project team—the architect, the specifier, manufacturer, general contractor, the wall manufacturer, and the installation contractor—is the essential requirement of a successful installation. For best results, design and installation considerations cannot be relegated to their respective silos.
Communication is key. Each member of the curtain wall designing-building team—the architect, specifier, curtain wall system manufacturer, general contractor, and installation contractor—must be on the same page regarding the needs and requirements of the system and any potential problems that could affect other team members. Doing so from start to finish anticipates and prevents problems. To avoid such situations, AAMA CWM-19 lists specific installation responsibilities that link the architect or specifier to the installer.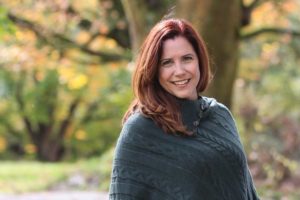 Amy Roberts oversees the Fenestration and Glazing Industry Alliance (FGIA) Canadian standards and regulatory building/energy codes, as well as the Insulating Glazing Manufacturers Association of Canada (IGMAC) Certification Program for Insulating Glass (IG) Units. She has more than 20 years of industry experience in glass and IG manufacturing, and in both residential and commercial window manufacturing. She can be reached via email at aroberts@fgiaonline.org.

Control the content you see on ConstructionCanada.net!
Learn More.