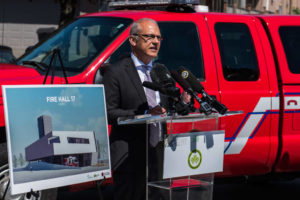 Last month, the country's first Zero Carbon Building Standard was launched by the Canada Green Building Council (CaGBC), in support of both CaGBC's Zero Carbon Building Initiative and Canada's commitment to reduce greenhouse gas (GHG) emissions by 30 per cent by 2030. The organization worked with green engineering firm Integral Group, along with more than 50 other organizations, utilities, governments, and companies to develop the standard, which is designed to apply to a wide variety of buildings.
By assessing the carbon usage of new and existing commercial, institutional, and multifamily Canadian buildings, the standard can be used to identify areas where energy efficiency can be improved. It acknowledges the fact local electricity systems' carbon intensity and fossil fuel consumption have a greater impact on buildings' carbon footprints than energy performance.
"While there is no doubt that Canada's building sector has been dramatically transformed over the last two decades, the time has come to be bolder and more ambitious," said Thomas Mueller, CaGBC's president and CEO. "CaGBC's Zero Carbon Building Standard brings focus to carbon emissions reduction, and defines new levels of building performance. This standard will help the building industry to show leadership in eliminating emissions from buildings and contribute to the shaping of Canada's climate future."
The standard will continue to be altered and updated as time passes, in part thanks to the organization's Zero Carbon Building Pilot Program. The program involves 16 projects displaying progressive sustainability efforts in Ontario, Nova Scotia, British Columbia, Québec, and Alberta. These will be monitored to inform the standard's development, while each project team will benefit from quarterly meetings with CaGBC.
The projects are:
At the site of the fire hall project, the pilot program was unveiled.
"It's exciting to participate in CaGBC's program to upgrade Fire Hall 17—Vancouver's oldest—to be the country's first zero-emission fire hall in a busy and growing neighbourhood," said Gregor Robertson, Vancouver's mayor. "The new fire Hall 17 will provide an essential emergency response hub in southeast Vancouver, and being built to progressive, zero-emission standards ensures its resiliency to provide emergency services and tactical training space for our first responders well into the future."
Project registration for the standard opens September 5, with more information forthcoming as well. For its full requirements, visit the CaGBC website.