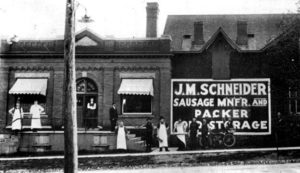 Construction Specifications Canada (CSC) has announced the launch of its seventh annual "Tapping the Future" student design challenge. The theme for the competition is hospitality and embracing legacy.
Sponsored by the association's Grand Valley and Toronto Chapters, the contest involves taking a physical space and demonstrating how it could be theoretically reimagined, enabling students to showcase their skills with architecture, building materials, and construction documentation.
The subject of this year's competition is an 1858-m2 (20,000-sf) rectangular red brick building built in 1948, which was once part of the John Metz Schneider Meat Processing Compound in Kitchener, Ont. The building originally served as an office but over the years morphed into the garage where the Schneider's fleet of cars and trucks were maintained. The story really begins in 1890 when Schneider, an immigrant from Germany, founded the meat packing company. For over 125 years, JM Schneider's has employed thousands of people from the community who worked at the company their entire lives—they met, married, and had children who followed in their footsteps. Schneider contributed to the fabric of the community. There is much more to the history than just the building.
The CSC competition is open to current post-secondary students in Ontario with an interest in architecture, engineering, interior design, construction management, innovative products, manufacturing, and related activities. Students can submit individually or in teams of up to four participants. The first-, second-, and third-place winners will receive prizes of $2000, $1000, and $500, respectively.
To assist contestants in navigating the building, Planitar—a technology company—has created a virtual site tour.
Registration is open until April 17. For more details, click here. Enquiries can be made here.