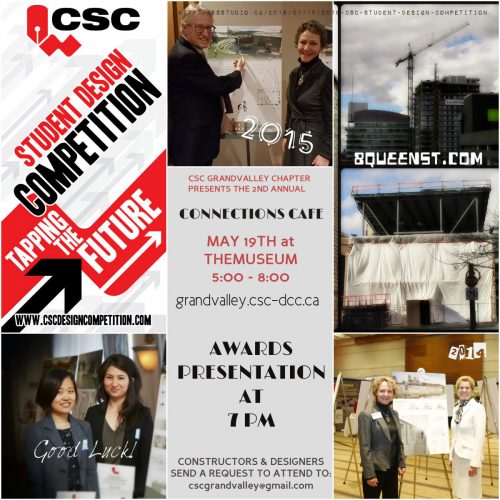 On Thursday, May 19, from 5 to 8 p.m., the Grand Valley Chapter of CSC is hosting its second annual Connections Café at THEMUSEUM in Kitchener, Ont.
The event is intended as a fun, informal opportunity for industry colleagues, clients, and friends to exchange information, share ideas, and develop new contacts. Members of the community interested in receiving an invitation to attend as a guest of one of our sponsors are invited to submit a request by email to cscgrandvalley@gmail.com. Those interested in sponsorship can visit the Karelo site.
The evening will also feature the 2016 CSC Student Design Competition Awards, with the top five entries on display and the winners announced at 7 p.m. This year's theme is involves open offices and high-tech business clusters in keeping with the impact of the technology sector on Kitchener's downtown core and Innovation District. (The competition's 'site' is literally around the corner at 8 Queen Street, future home of Vidyard.)
For more about last year's competition, click here. To read about the 2014 winners, click here.