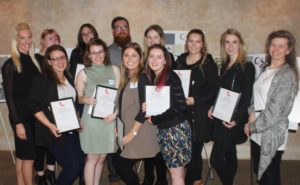 Earlier this month, winners were announced for the 2017 Student Design Competition co-ordinated by Construction Specifications Canada's (CSC's) Toronto and Grand Valley Chapters. For the competition, teams of up to four students were asked to reimagine a former tire/footwear warehouse as Catalyst137, a 'maker space' facilitating innovation in the age of the Internet of Things (IoT). Specifically, teams had to design the space's lobby, public gathering space, and outdoor collaboration space.
Winners were students of Conestoga College's Bachelor of Interior Design Honours program. First place and its prize of $2000 were earned by Thiska Meereboer, Erin Wetzel, Henry Dowling, and Mike Latter. Their proposal (available to view online) also earned them the People's Choice Award, decided by popular vote the night of the presentations.
Second, third, and fourth place also went to four-person teams, namely:
Brooklyn Taylor, Emily Turchi, Maria Van Woundenberg, and Han Xie in second place (earning $1000);
Brianna Dancy, Jandi Gunn, Laura Kular, and Tessa MacDonald in third place (earning $500); and
Stephanie Moraweitz, Mia Bartels, Gemma Gorkes, and Kelsey Elford in fourth place.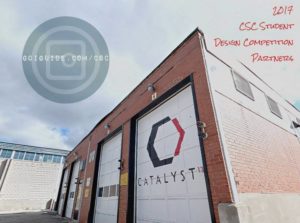 The competition, which was open to all post-secondary students in Ontario with an interest in construction and related activities, placed no budget constraints on proposals, but required students to use five of 10 required materials and provide a detailed product specification. Entrants were judged based on various aspects of their submissions, including completion of requirements, quality of materials, innovation, and use of the site. (More detail on the competition's requirements is available via the competition documents.)
The 44,129-m2 (475,000-sf) building is located in Kitchener, Ont., and was not available for site visits during the course of the competition, making the jury consideration of 'use of the site' difficult to achieve. To circumvent this, a virtual site tour was provided via a tool known as iGuide.
"This tool was extremely beneficial to the students in assisting them to navigate the site for the competition remotely," said Sarah Turner, a professor at Conestoga College. "With the multiple views that can be generated, it provided a three-dimensional understanding and overview of the space. In addition, the students were able to measure ceiling heights, openings, locate columns, and generate views for overlays to assist with the three-dimensional development of their design concepts. It also provides records of existing conditions and daylighting, which is critical during the design phase."
Video of the Connections Café at which winners were announced is available below.