Creating welcoming homes with modular construction: An exclusive interview with Daniel Ling of Montgomery Sisam
December 22, 2020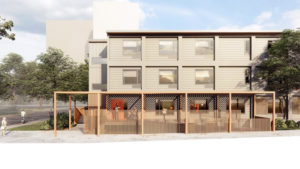 By Sadia Badhon
As part of the HousingTO[2] action plan, two new housing complexes[3], 11 Macey and 150 Harrison, have begun to take shape in Toronto. The goal is to create more design-forward, dignified, inclusive, and welcoming homes for the homeless.
Designed by Montgomery Sisam Architects[4], these two buildings form Toronto's first-ever permanent supportive housing that uses an innovative modular construction method.
"While the social value of this project is unassailable, its architectural significance is found in a design that not only recasts our experience of modular buildings but also of those who will inhabit them," Montgomery Sisam Architects said.
In an exclusive interview, Daniel Ling, principal at Montgomery Sisam Architects, spoke to Construction Canada about this unique project.
Why was modular construction chosen for this project? What factors make this modular construction method innovative?
Ling: Modular construction was chosen primarily for two reasons. The first is the speed of construction as the projects had to be completed very quickly. Our team had only around eight months to complete the design and construction, therefore, modular construction was the only way to meet this schedule. The second reason is repetition. The program required 100 studio units that are practically identical across the two sites—such repetition makes modular construction a suitable choice.
One of the challenges faced by Montgomery Sisam is that modular buildings are often perceived as cold and industrial, foreign to their surroundings. To foster inclusion, it was critically important that 11 Macey and 150 Harrison be dignified, welcoming, well-integrated homes that would combat the stigmas associated with homelessness.
Could you elaborate more on the challenges faced by the firm in designing/constructing this project?
Ling: Within a very tight timeframe, the design team had to work with the constraints of the modular system and adapt it into a design suitable for the context. This was a challenge both from an architectural and urban design perspective, as well as from a technical perspective, to ensure the projects are energy efficient and suitable for the Ontario climate.
What are some measures that were employed to foster inclusion and make the buildings more dignified and welcoming?
Ling: On the exterior, it was important for our team to give the buildings a residential and welcoming quality—something that would make the buildings suitable for the context of the neighbourhoods and would allow them to contribute to the urban fabric. For example, we introduced a number of wood elements to give the buildings a warm tactile quality and a finer grain scale. On the interior, we focused on the quality of light—large windows were located both in the corridors as well as the suites to give occupants access to ample natural daylight and views.
What are some 'well-integrated' features of the housing units?
Ling: The units are compact, but are designed to be very functional. The intent is for each unit to contain the basic needs of a home. Each unit has a bathroom and shower, and a small kitchen so residents can cook their meals. There is a closet near the bedroom, and next to the large operable window is a place for a table and a set of chairs. All of these features are integrated within a compact 28-m2 (300 sf) unit.
The Modular Supportive Housing Initiative is a rapid delivery model that will provide more, better quality, long-term housing for those currently experiencing homelessness on an accelerated timeline.
What does the rapid delivery model entail? How much faster can these modular housing units be built?
Ling: The intent for the rapid delivery is to provide housing as quickly as possible to assist people in Ontario experiencing homelessness. Before the pandemic, our shelter system was already under considerable strain and the pandemic has created a crisis situation for those with no place to go.
These modular housing projects are designed and constructed in approximately eight months, helping to provide rapid housing to those who need it most. Conventional construction for this type of project would be at least twice as long.
Among the onsite touches are a number of wood elements in Douglas fir that give warmth and finesse to the façade like the trellised entrance canopy and the slats and screen on all ground-floor units. They also help distinguish the ground level and create a scale comfortable to patrons and passers-by. The restrained colour palettes—the light grey board at Macey and darker grey at Harrison—respond to the hues that colour their respective neighbourhoods and allow the residences to recede into the existing fabric of buildings. Subtleties like the crimson entrance door and similarly coloured furniture reinforce the appearance of domesticity rather than institutionality.
From a sustainability perspective, these buildings are designed to be quite energy efficient; an all-electric heating and cooling system means we are not burning fossils fuels. The design also minimized embodied carbon, the wood-framed modules are structurally self-supporting with no need for a steel structure; and concrete use is limited to only strip footings. Bike parking is also provided for these two compact sites, which also supports the eco-friendly footprint.
Endnotes:
[Image]: https://www.constructioncanada.net/wp-content/uploads/2020/12/Opener-3.jpg
HousingTO: https://www.toronto.ca/community-people/community-partners/affordable-housing-partners/housingto-2020-2030-action-plan/
housing complexes: https://www.constructioncanada.net/montgomery-sisam-uses-modular-construction-to-design-supporting-housing/
Montgomery Sisam Architects: https://www.montgomerysisam.com/
Source URL: https://www.constructioncanada.net/creating-welcoming-homes-with-modular-construction-an-exclusive-interview-with-daniel-ling-of-montgomery-sisam/
---