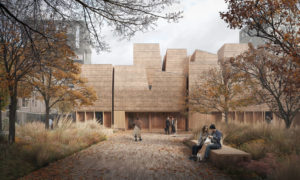 The competition winning design of Ørestad Church in Copenhagen, Denmark, features a structure built in wood and wood shingles to ground the building in its forest surroundings  , in hopes of evoking spirituality within worshippers.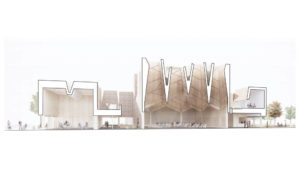 Danish architecture firm, Henning Larsen, in collaboration with Danish design studio, Platant, and engineering and consultancy group, Ramboll, have come up with the design. A key feature is the sculptural roof and a combination of wooden roof domes—designed to conjure the sensation of standing under a canopy of trees, to serve as a new sustainable landmark, and marking a natural meeting place for the local community. Copious amount of natural light also cascades from the roofs.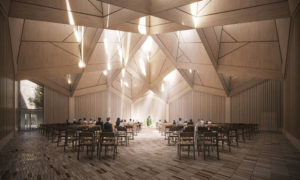 The facade of the church is rough, similar to bark on a tree, and changes character through the seasons and over time. The church is connected to its surroundings by a continuous brick floor of various tones and glazing, referencing fallen leaves, which become benches, sitting niches, and podiums.
The structure will house a flexible church room, adaptable for a range of services and ceremonies, and include a chapel, a shielded courtyard, a church office, and informal cultural spaces for communal eating, small concerts, yoga, dancing, or lectures.
"Stepping into the church, the connection to nature will ignite people's spirituality. The chapel bathes in light from above and opens the view of the sky, drawing people's gaze. The hall is the clearing in the forest, where the light is refracted in a variety of ways throughout the day and year. Building in wood and harnessing the power of the light was the obvious solution, for the climate, for the context, and for the community," says Jacob Kurek, global design director, Henning Larsen.
Construction is expected to start in 2024, and the church will be consecrated in 2026.