Cool learning: Schools are cutting costs and increasing comfort with fans
by nithya_caleb | December 28, 2018 1:59 pm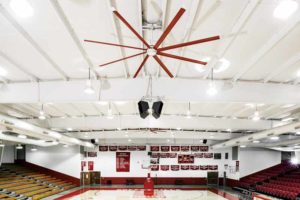 by Christian Taber, LEED AP, HBDP, BEMP, CEM
A few months ago, a news story out of Toronto struck a familiar chord. "Students are only on their second day of school, and already facing a fight to keep cool amid a September heat wave," said the report. Daytime temperatures were breaking records at 32 C (90 F) and feeling much closer to 42 C (107 F) with the humidity.
"With only 128 of the Toronto District School Board's [TDSB's] 583 schools fully equipped with air-conditioning," the reporter noted, "many parents and teachers are renewing their calls for action."
Video clips showed children describing "burning" conditions in the classrooms and adults who were demanding change.
At least once a year, schools across Canada contend with heat waves sending thermostats soaring. To cool down students and make classrooms feel less stifling principals and teachers employ various measures, such as:
pulling down window blinds;
providing extra water breaks; and
moving students to the basement.
However, those steps cannot quell the public outcry about the lack of air-conditioning in the majority of schools—an outcry routinely met by reminders from school boards about the high cost of installing air-conditioning in all schools ($750 million in the Toronto district alone). The fact most schools would use air-conditioners for only a few weeks in the school year makes the amount particularly difficult to swallow.
The process of establishing cooling strategies for existing schools can take years. Meanwhile, some architects and engineers have begun employing a simple and economical solution to the problem: ceiling fans. Every year, more school districts are recognizing the advantages of using energy-efficient ceiling fans to create a comfortable and stimulating learning environment.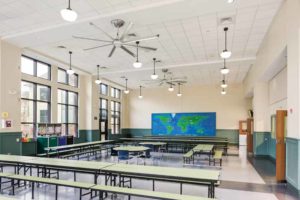 Ceiling fan transformation
The last 20 years have seen dramatic changes in the ceiling fan industry, including the development of large-diameter fans to move massive amounts of air over a wide area.
These high-volume, low-speed (HVLS) fans are usually employed in warehouses and factories where air-conditioning would be prohibitively expensive. These fans have demonstrated their effectiveness at cooling millions who work in such places as they have been adopted across the globe.
However, at schools in Canada, students and staff are discovering these same fans, which in the last 10 years have come to feature silent, direct-drive motors and elegant designs, also vastly improve comfort in cafeterias, libraries, and other spaces at a fraction of the cost of air-conditioning.
The ceiling-fan transformation is not just in HVLS models. Smaller ceiling fans have also been made more energy efficient and effective. As a result, they are being installed in an increasing number of classrooms. Thanks to a cooling effect of up to 5.5 C (10 F) or sometimes more, high-quality fans can make a huge difference in an enclosed space filled with energetic children. Teachers also appreciate the fact independent control of their comfort with a fan is as simple as pushing a remote button, whereas schools often limit access and the range of control with air-conditioning.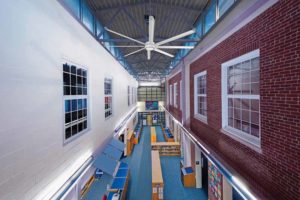 Working with HVAC
In northern climates, fans work with the HVAC system throughout the heating season to improve comfort and create a more uniform temperature from floor to ceiling. The ability of HVLS fans to mix the different air temperatures and push the hotter air at the ceiling down to the floor level can save buildings up to 30 per cent on heating costs. It can also reduce the amount of ductwork required and the load on HVAC systems.
For schools—and anywhere else people sit for longer periods of time—the air circulation from HVLS and smaller ceiling fans has the added benefit of improving indoor environmental quality where people sit and work, thereby positively impacting overall performance and productivity.
The desire to create healthy, stimulating environments has led one architecture firm to include ceiling fans in its recent school projects.
Barrie North project
The Barrie North Collegiate Institute (BNCI) was established in 1957 in Ontario's Simcoe County District School Board (SCDSB). Since it was built, it has added a series of wings, creating a quadrangle. Space outside that area is taken up with parking lots and athletic fields. When the school district awarded Kingsland + Architects a contract to build a two-storey academic resource commons, the only place for the addition to go was inside the quadrangle. Principal architect Colin Kingsland was familiar with HVLS fans from previous projects, including the new atrium joining the Riverside Public School and Elmira Children's Centre in Waterloo, Ont. Convinced of the fans' benefits in school settings for destratification, as well as environmental quality, he made them a central element in the project's sustainability design strategy.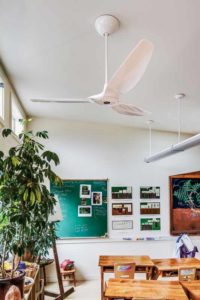 The 2770-m2 (30,000-sf) Barrie North project had its grand opening in the spring of 2018. Throughout the open areas of the library, study lounge, corridors, and breakout spaces, Kingsland's firm had 2- and 2.4-m (7- and 8-ft) commercial HVLS fans installed on the 4-m (14-ft) ceilings. While the fans' primary purpose may be destratification during the colder months, they also play an important role in creating comfort throughout the school year. In the library, which features 5-m (15-ft) windows around the perimeter, the fans help circulate the air-conditioning, thereby creating a cooling breeze to prevent warm spots by the windows.
"Fans do an amazing job of not only circulating the air to destratify, but also cooling. With the slight breeze, an indoor space goes from a very stuffy place to somewhere that is quite comforting and comfortable," Kingsland said.
In addition to HVLS fans, Kingsland designated 1.5-m (5-ft) ceiling fans in stairwells linking the open spaces for further air circulation.
Schools represent about 80 per cent of Kingsland's work. According to Kingsland, it is paramount the finished design should enhance students' learning experience, which relies on two fundamental tenets: natural daylighting and air quality strategies.
"Creating an environment that is healthy, stimulating, and has been proven to positively affect productivity and reduce absenteeism is, in our estimation, a prerequisite," said Kingsland. "Strategies such as daylighting and air quality have been shown to enhance productivity, and we have found air movement to be critical to good indoor air quality [IAQ]."
It is clear air movement and daylighting go hand-in-hand. In areas with tall ceilings and lots of glass letting in natural light, fans become a necessity, too. Their thorough air circulation keeps everywhere in the space at essentially the same temperature.
When spinning slowly to destratify, the fans at BNCI create no perceptible air movement at occupant levels, but can accomplish approximately 6.5 air turnovers per hour. Project engineer Barry Day estimated the savings in ductwork where the fans were installed to be approximately $20,000.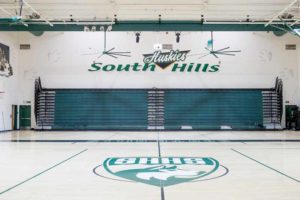 Creating a better learning environment
Poor air quality can cause short- and long-term problems such as coughing, eye irritation, headaches, asthma episodes, allergic reactions, and in rare cases, life-threatening conditions like respiratory distress. In schools, poor air quality affects concentration, attendance, and classroom performance. For classrooms of 20 to 30 children confined for hours breathing pollutants and elevated concentrations of carbon dioxide (CO2), better air circulation can be vital.
High occupant density of schools and the young age of occupants mean it is critical building designers provide adequate ventilation in compliance with the American Society of Heating, Refrigerating and Air-Conditioning Engineers (ASHRAE) 62.1, Ventilation for Acceptable Indoor Air Quality.
ASHRAE 62.1 stipulates an outdoor air rate for every occupied space depending on the size and number of occupants in the space. For example, in an 83.6-m2 (900-sf) room with 30 occupants, the outdoor airflow to the 'breathing zone' would be 693 m3 per hour (408 cf per minute). However, since many HVAC supply and return vents are located near the ceiling, a significant amount of the heated air never makes it down to the breathing zone—according to ASHRAE 62.1. As a result, standard HVAC systems with overhead supply and return and high supply air temperatures must supply 20 per cent more outdoor air to the space to maintain acceptable air quality in the breathing zone. Properly sized and strategically placed overhead fans can improve air distribution effectiveness and reduce energy consumption by pushing the heated air down and circulating it throughout the target zone.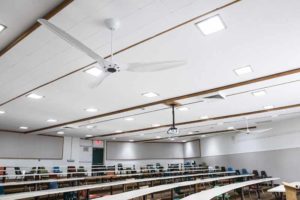 [6]In schools, air movement from overhead fans is critical to improving air quality in an energy-efficient way. Air movement dissipates odours and disrupts stagnant air, including localized concentrations of CO2. Many fans have a variety of sizes and mounting options for common ceiling structures and are well suited to the varied layouts and needs of schools. Further, the low-speed aspect of HVLS, coupled with direct-drive motors of high-quality fans on the market, makes HVLS fans virtually silent when compared to their more traditional residential counterparts—another important detail when considering the concentration required by students in a learning environment.
Conclusion
Studies show productivity declines fast after 25 C (77 F). Thus, learning is affected by classroom temperature (Get further details at www.hks.harvard.edu/publications/heat-and-learning). By the time the temperature reaches 32 C (90 F) and feels much hotter, as it did in Toronto this past September, productivity loss in adults reaches significant levels. The effects of heat and humidity are even greater on children. As noted in a 2016 article by Joshua Graff Zifin and Jeffrey Shrader, published in the Princeton journal The Future of Children, kids are more susceptible to heat-related issues "partly because of their physiological features, but, perhaps more important, because they behave and respond differently than adults do. Children are less likely to manage their own heat risk and may have fewer ways to avoid heat. … And very young children may not be able to tell adults that they are feeling heat's effects."
With global temperatures moving upward and the number of hot days on the rise, school districts face some difficult decisions.
Kingsland and others are convinced ceiling fans are a cost-effective solution to the uncomfortable heat waves interfering with learning. Even the most basic comparison of costs back that up. The cost to retrofit existing elementary schools with central air-conditioning would likely equal more than $1 million per school. This becomes unaffordable when the expense of regular maintenance and the higher energy bills are considered. Portable air-conditioning units fail to supply sufficient outside air and can be noisy, making them impractical options as well.
HVLS fans in open spaces, such as libraries, cafeterias, gyms, and corridors, are easy to install. They produce a gentle breeze that does not rustle papers and use minimal energy while creating a cooling effect of up to 5.5 C (10 F) or more. While prices vary depending on size, quality, and specific features, the cost of installing HVLS fans is a fraction of that of central air-conditioning. Installing energy-efficient overhead fans in classrooms is equally effective and less expensive. Unlike other high-cost cooling solutions, overhead and HVLS fans lower energy bills in the heating season and improve comfort in learning environments year-round.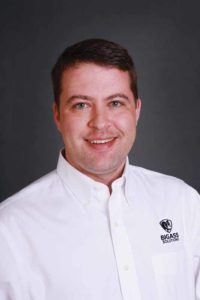 [7]Christian Taber, LEED AP, HBDP, BEMP, CEM, is the principal engineer of codes and standards at Big Ass Fans. Taber is part of the team responsible for assisting in the implementation of the company's portfolio of high-volume, low-speed (HVLS) fans in comfort and energy-saving applications across the globe. He can be reached at press@bigassfans.com[8].
Endnotes:
[Image]: https://www.constructioncanada.net/wp-content/uploads/2018/12/Coffeyville-13.jpg
[Image]: https://www.constructioncanada.net/wp-content/uploads/2018/12/Buist_001.jpg
[Image]: https://www.constructioncanada.net/wp-content/uploads/2018/12/Cassidy-Elementary.jpg
[Image]: https://www.constructioncanada.net/wp-content/uploads/2018/12/Corvallis-4.jpg
[Image]: https://www.constructioncanada.net/wp-content/uploads/2018/12/Covina-Valley-School-District-8.jpg
[Image]: https://www.constructioncanada.net/wp-content/uploads/2018/12/Covina-Valley-School-District_02.jpg
[Image]: https://www.constructioncanada.net/wp-content/uploads/2018/12/Christian-Taber.jpg
press@bigassfans.com: mailto:press@bigassfans.com
Source URL: https://www.constructioncanada.net/cool-learning-schools-are-cutting-costs-and-increasing-comfort-with-fans/
---