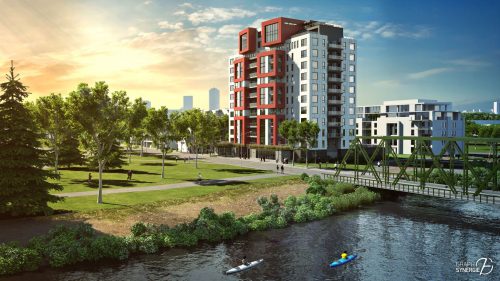 Origine, a green condominium project in Québec City's Pointe-aux-Liévres Ecodistrict, is currently under construction and expected to be completed by the end of the year.
Designed by Yvan Blouin Architects, the 41-m (135-ft) building will be 12 storeys high and include 92 units. It will be made of cross-laminated timber (CLT) above a concrete ground floor and feature natural-gas air- and water-heating, radiant flooring, and a 'smart' garbage chute.
Origine is made possible through partnerships between the Government of Canada, the Québec government, Ville de Québec, and many research partners, such as FPInnovations. It was selected by Natural Resources Canada (NRCan) and received $1.175 million in funding under the Tall Wood Building Demonstration Initiative. The Québec Ministère des Fôrets, de la Faune et des Parcs sponsored unprecedented fire-resistance testing to demonstrate the structural stability in the event of a fire.
"By supporting innovation and the use of new techniques in the construction of wood-based high-rise buildings, we are supporting the growth of a strong and competitive forestry industry," said Jim Carr, Canadian minister of natural resources. "These investments in research and development lead to cleaner, more sustainable construction practices, all while promoting the creation of employment opportunities in the forestry sector. Innovative, entrepreneurial ideas like these are integral to our fight against climate change."