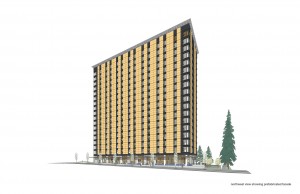 The University of British Columbia (UBC) is reportedly building the world's tallest building made of timber for its Brock Commons student residence, which will stand 18 storeys high.
Construction began in November 2015 and is expected to be completed in the summer of 2017. The 53-m (174-ft) tall building will house 404 students and cost $51.5 million. It was designed by Acton Ostry Architects with Austria's Architeckten Hermann Kaufmann as a 'tall wood advisor.'
A key goal of the project is to demonstrate the viability of mass wood structures for the province's development and construction industries. The building will have a one-storey concrete podium, two concrete cores, and 17 storeys of mass timber topped with prefabricated steel beams and metal roof deck. The vertical loads are carried by the timber structure, while the concrete cores provide lateral stability.
Brock Commons will be B.C.'s first building built to meet the new seismic design requirements for the 2015 National Building Code of Canada (NBC).