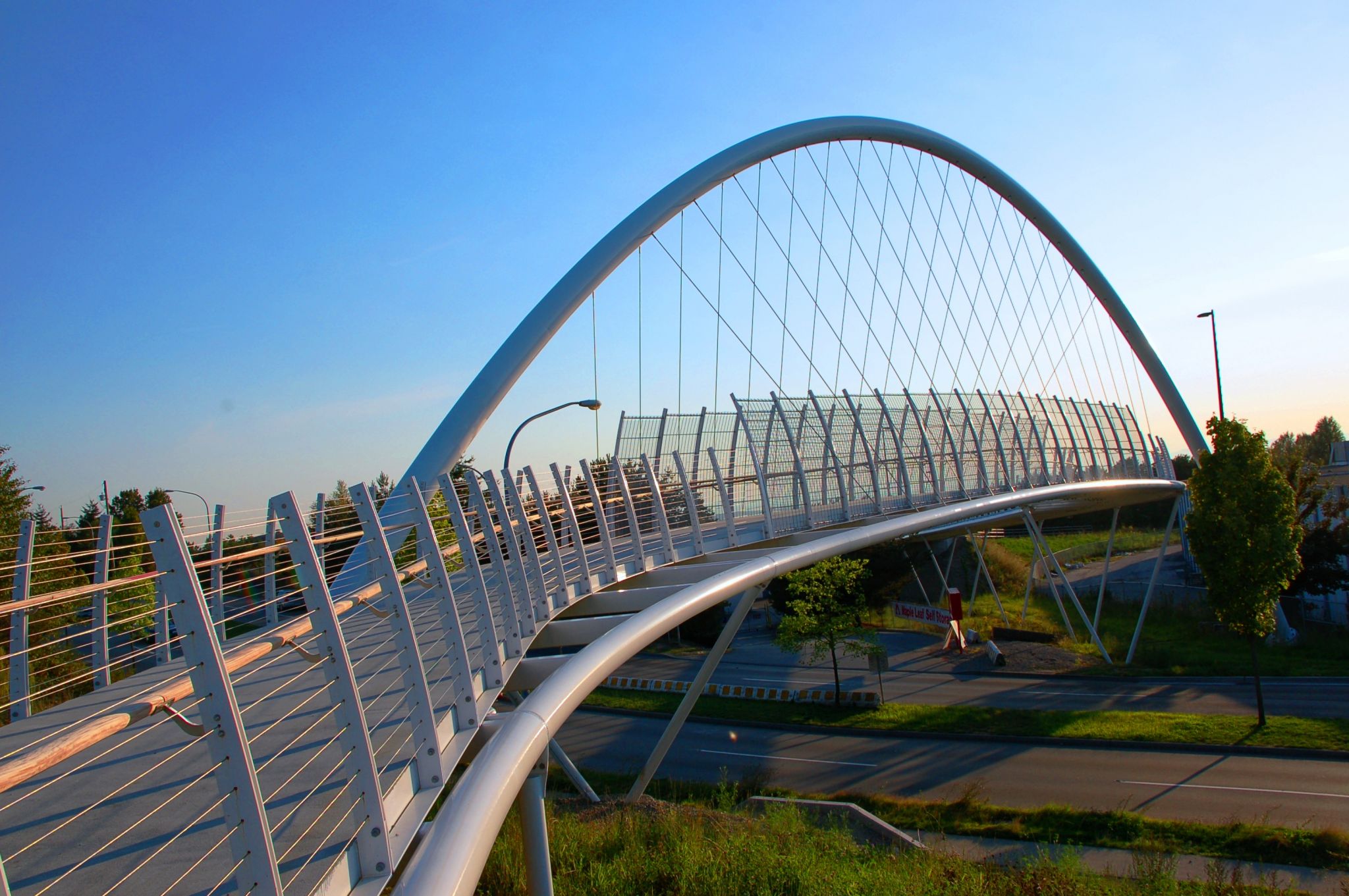 By Tom Bialk
Whether used on contours around a building, or as flat panels on an exterior wall, a façade of mesh metal 'fabric' can help create a beautiful exterior. However, advances in their design have yielded additional benefits for functionality and efficiency.
The non-corroding, stainless steel material can serve as a sunshade, allowing for an optimal amount of light to enter a building's interior. Architects employ lighting analysis software to measure for the best combination of glazing, considering the impact of direct sunlight, as well as geographic location. Too much direct sunlight penetrating a building will heat interiors, increasing cooling costs in order to maintain a comfortable environment. Alternatively, if light is completely blocked, the interior loses the opportunity to use natural lighting sources.
While the Canada Green Building Council (CaGBC) has not directly commented on the impact of metal fabrics on sunshading, the U.S. Green Building Council (USGBC) has confirmed Leadership in Energy and Environmental Design (LEED) v4 points can be earned for the following credits:
● Sustainable Sites (SS), Credit 8, Light Pollution Reduction;
● Materials & Resources (MR), Credit 1.2, Building Reuse;
● MR, Credit 4, Recycled Content;
● MR, Credit 5, Regional Materials;
● Energy & Atmosphere (EA) Credit 1, Optimize Energy Performance;
● Indoor Environmental Quality (EQ), Credit 8.1, Daylight and Views (Daylight); and
● EQ, Credit 8.2, Daylight and Views (Views).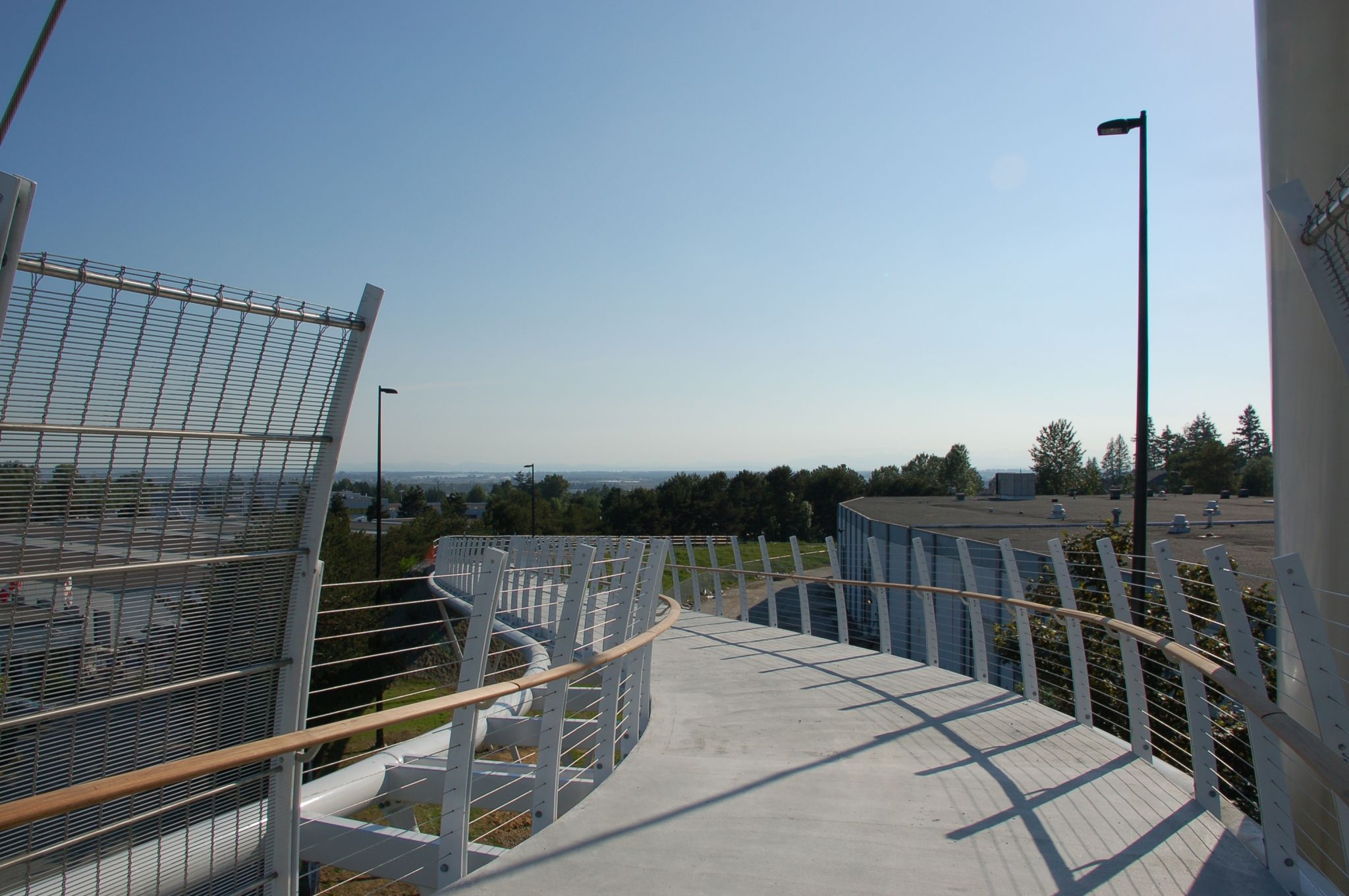 Reducing SHGC
Woven metal fabrics can reduce the solar heat gain co-efficient (SHGC) without limiting the benefits of daylighting. These fabrics, rather than perforated metals or expanded materials, are flexible and can conform to building curves, potentially requiring less material as a result. Metal fabrics can be woven up to 7.9 m (26 ft) wide and 30.4 m (100 ft) long. When compared to other materials, the amount of sub-structure required to attach can be greatly reduced.
This reduction has become a fully quantifiable benefit since heat gain can be measured in parts of the building facing direct sun and those shaded with metal fabric façades. The ability to measure the SHGC allows specifiers to plan ahead since the best way to control solar heat gain is not to completely block the sun, but partially intercept it before it enters, allowing the desired amount of energy through.
The temperatures of building surfaces shielded by metal fabric façades have been measured at a 17 per cent temperature difference from those that are not, such as at the California Independent System Operator (CAL ISO) Headquarters in Folsom. In this case, geographic location, climate, and building orientation were considered during the process of selecting the appropriate metal fabric. The specified metal fabric has an open area of 35 per cent and was used on the facility's west-facing façade. Both the exterior and interior walls shaded by metal fabric demonstrated a proportional decrease in temperature by almost 10 degrees, versus the unshaded area. The metal fabric façades do not block all light, and direct rays of sun are intercepted and used in the interior building environment.
In Canada, another example is the Griffiths Drive Pedestrian Bridge in Burnaby, B.C. Designed by Perkins+Will, the single-arch bridge was designed for the city as part of an urban trail renewal program. Like all pedestrian bridges, safety and security was critical in the design and engineering of the structure. The bridge features the use of metal fabric stretched over the roadway below and seamlessly links the at-grade urban trail.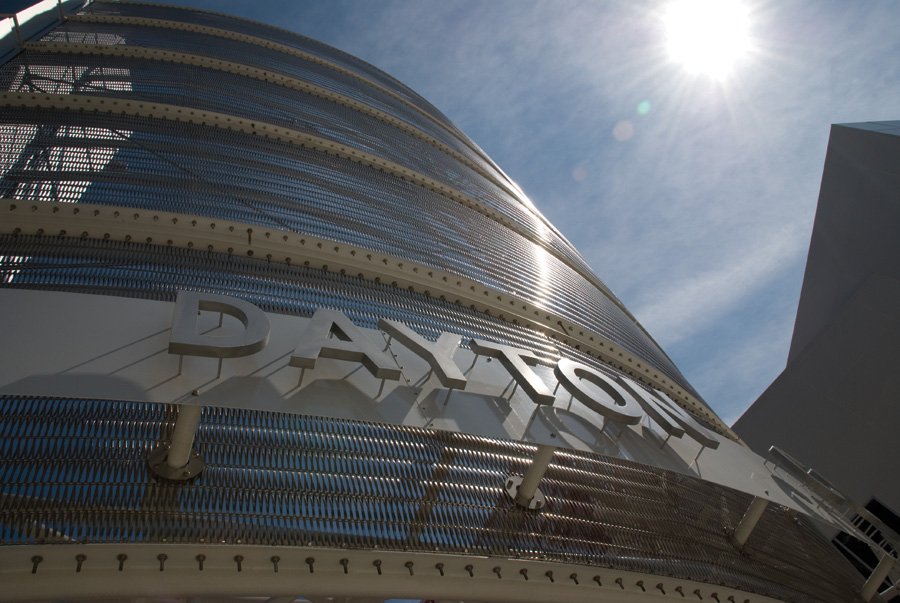 Design elements
Metal fabric is able to provide attractive design elements while attaining sunshading and daylighting effects. The esthetic appeal of façades is noteworthy on many buildings, but metal fabrics offer a sleek, woven design. As mentioned, the stainless steel material can be manipulated to create curves, twists, and contours around a building. Whether they are set as flat panels along an exterior wall or coiled around edges with a gentle wave structure, metal fabric façades create an interesting appearance. They can also hide unsightly aspects of a building, such as support beams and exhaust vents that may be a visual blemish. The material is also durable enough to resist the elements as an outdoor design fixture, but elegant enough to improve a plain exterior.
The sunshading capabilities of metal fabric façades allow buildings to operate more efficiently. Energy is saved by reducing the need for interior lighting, and cooling maintenance by minimizing the costs of air-conditioning. In blocking excessive direct sun rays, the façades minimize temperature increases inside a building. Therefore, less energy and money is used on air-conditioning to keep a functional interior temperature. Even more energy is saved by using natural daylighting instead of artificial light. While Canadian projects may not need all the benefits of sunshading, metal façades still provide sunscreening benefits, acting as a screen to harsh sun rays and helping to reduce glare.
The most commonly specified metal fabric façades include large open areas. This means rather than completely blocking light, sunshading is employed and allows enough daylight to enter the building and illuminate interior working environments. The natural lighting minimizes the need for energy expenditures on electricity, while also creating a pleasing, naturally lit space.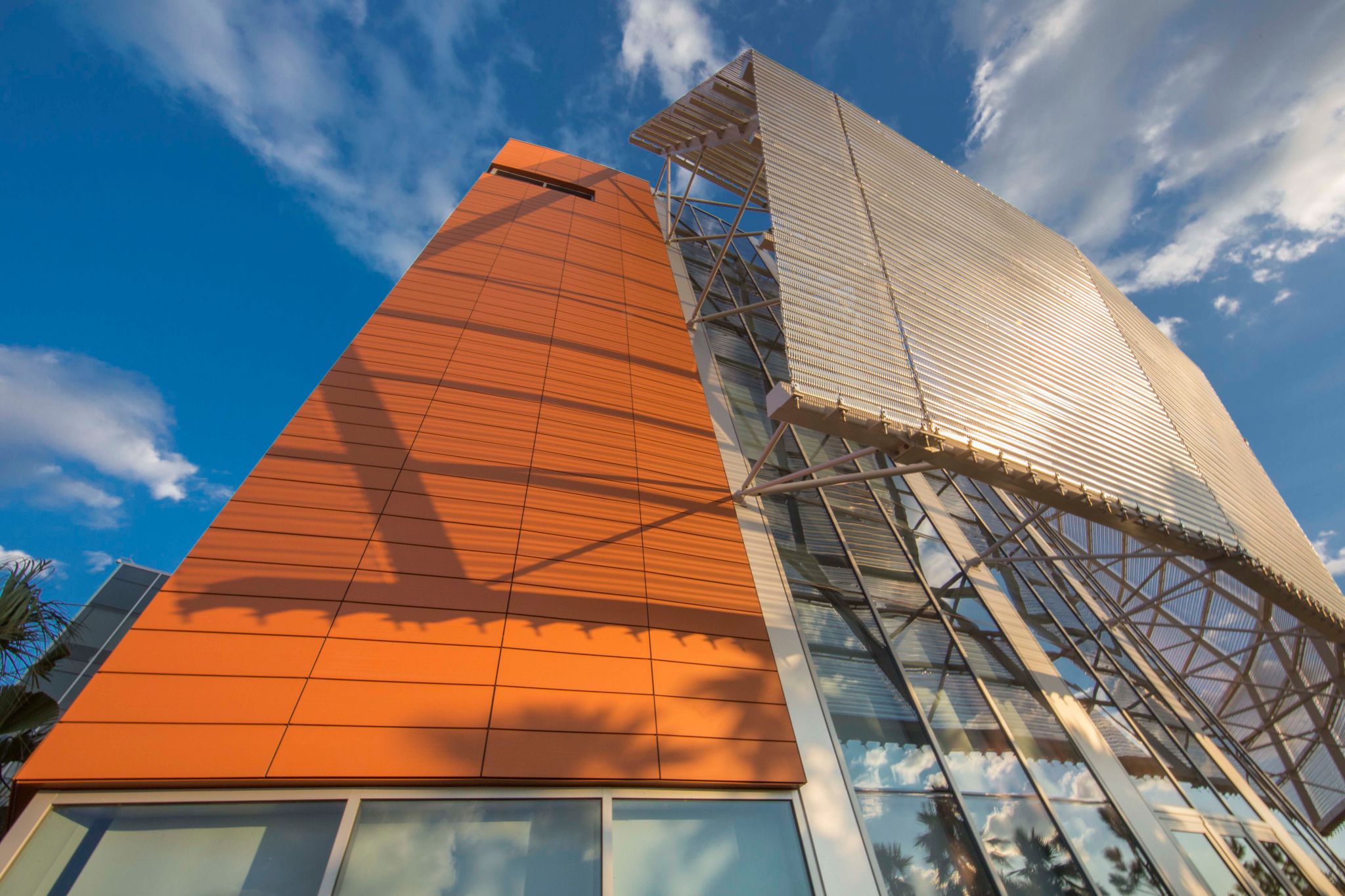 Air ventilation
Woven metal fabrics are manufactured on a loom. Just as with any woven fabric, the warp (vertical thread) and the weft (horizontal thread) may be adjusted to create different effects. Wire threads may have various thicknesses depending on desired outcomes, and looms may be set with different openings depending on required transparency. Through the use of wider weft, while adjusting warp spacing, metal fabrics not only allow more light to penetrate the building, but also permit natural air ventilation, which helps maintain a building's temperature. Tighter weaving of metal fabrics results in lessened sunlight.
Along with the quantifiable benefits, studies have shown productivity increases when building occupants work with natural light. Harsh electric lights can be grating and cause headaches, but daylighting provides a healthy alternative. Overly bright light is avoided as a result of the sun ray interception.
The filtration of direct sunlight that allows for lit interiors and minimized energy costs occurs simultaneously with solar heat gain reduction. Due to extensive knowledge of the solar properties of the fabrics, manufacturers can work with architects and designers to determine the glazing value and quantify the solar heat gain, a calculation that helps determine the building's necessary heat gain coefficient.
Design process
Metal fabrics allow not only for efficient functionality, but also efficiency during the design process itself. The advancement in technology enabling the temperature difference with and without metal fabric façades translates to a highly useful tool for design professionals. Along with their resilience to weather and life expectancy of up to a century, metal fabrics are a useful architectural and design element.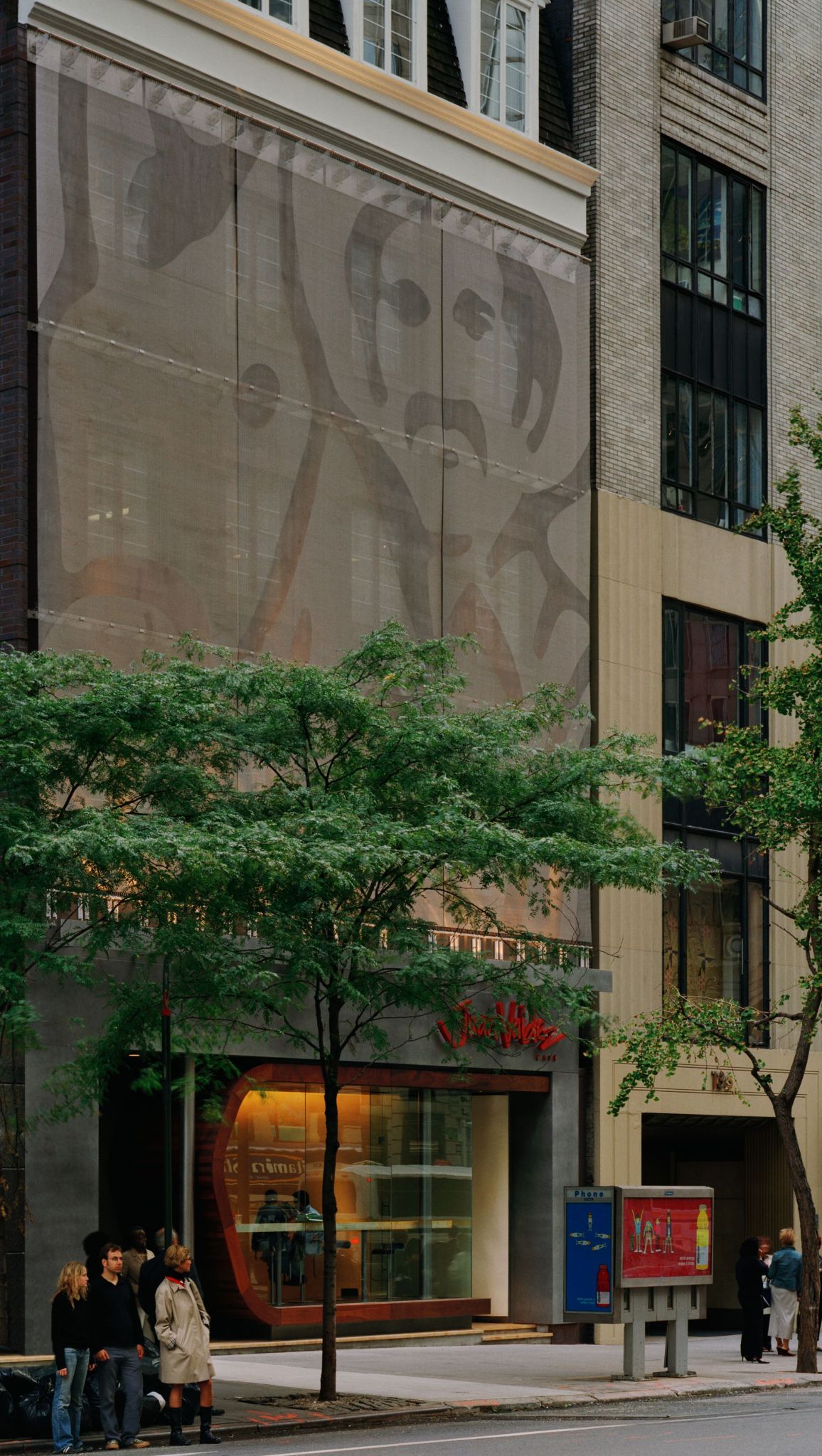 Certain environmental factors such as strong winds or cold weather conditions call for certain preventative measures to be put in place. For example, if designing a project on the country's East Coast, wind force must be taken into account when designing and determining capability of the fabric and attachment designs.
Tests of metal fabric's solar properties have been conducted in conjunction with constant glazing so design professionals can specify the metal fabric of choice based on its specified numerical glazing value. The tests are based on European standard EN 410, Glass in building–Determination of luminous and solar characteristics of glazing. The solar heat gain coefficient is calculated per EN 13363-1, Solar protection devices combined with glazing–Calculation of solar and light transmittance, Part 1: Simplified method, for external shading devices. The SHGC was confirmed using lighting analysis software. With this tool available, architects are able to predict the total façade's SHGC as they design.
With an average lifespan of 100 years, metal façades are likely to last at least as long as the core structure. The aforementioned durability and weather resistance of metal fabric façades allows them to endure years of use without requiring replacements or causing unnecessary cost. Should a metal fabric façade no longer require use, the 100 per cent recycled metal fabric can be reworked to function in another setting, rather than becoming post-consumer waste material.
Conclusion
When considering materials for façades, glass, tinted glass, perforated metal, and metal fabrics can be specified. However, metal fabrics are made from stainless steel, a non-corroding metal, and are completely recyclable. The benefits of using metal fabrics include design flexibility and solar management capabilities. Additionally, sub-structure requirements are minimized when employing metal fabric façades, as compared with other options.
Metal fabric façades are not just a construction accessory. They are a multi-faceted, functional addition to any large-scale building project that seeks to create a sustainable, attractive, and high-performing structure.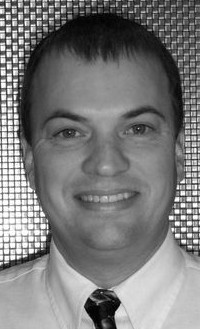 Tom Bialk, LEED Green Associate, is a designer and engineer at GKD-USA. With a degree in architectural engineering from Delaware Tech, he has more than 20 years of experience in the field of design, building, and engineering. He specializes in solar management applications and the analytics that allow GKD engineers to pre-determine the quantifiable benefits of using metal fabrics. Bialk can be contacted via e-mail at tomb@gkdusa.com.

Control the content you see on ConstructionCanada.net!
Learn More.