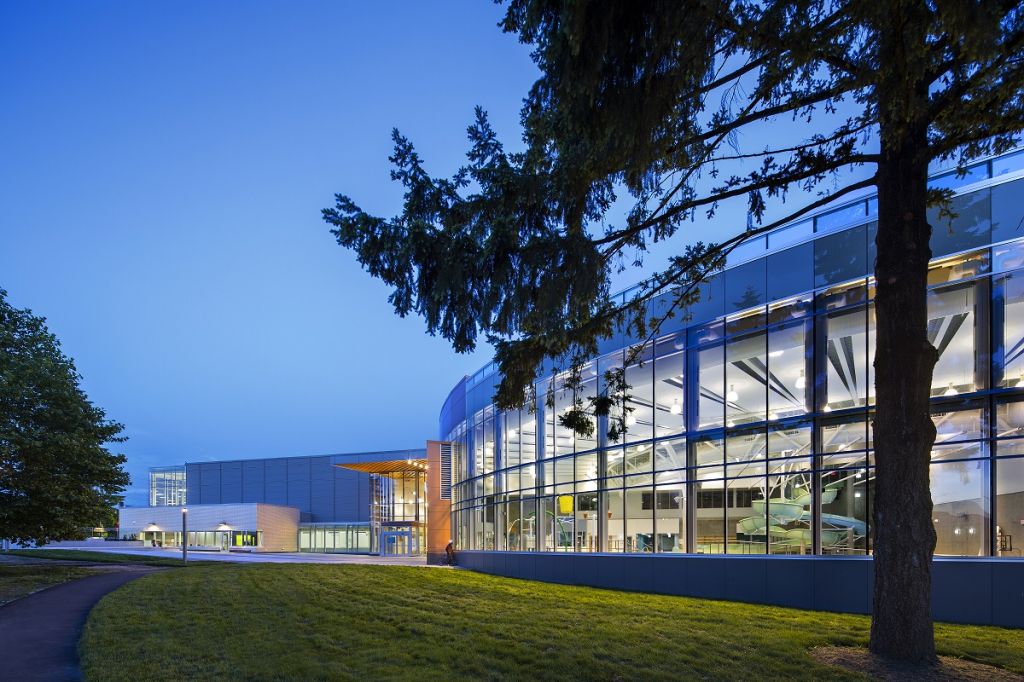 Earlier this summer, the 8825-m2 (95,000-sf) Edmonds Community Centre and Fred Randall Pool celebrated its grand opening in Burnaby, B.C., in a diverse neighbourhood with many new Canadians.
CEI Architecture designed the $32-million facility using an initial public engagement phase to inform residents about the project and confirm the community's needs, interests, and priorities. Burnaby is one of the most populated urban centres in the province, and some of the immigrant families in the area were unfamiliar with the concept of a community centre, so this information stage was important to the building's design.
The result of this strategy was a diversified program for the community's social, recreational, and cultural needs.
A large glued-laminated timber (glulam) structure and wood decking atrium welcomes visitors and provides visibility through extensive glazing employed throughout. The features of the centre include:
six-lane 25-m (82-ft) pool;
280-m2 (3000-sf) leisure pool featuring practice lanes, lazy river, and beach entry;
double waterslide;
1114-m2 (12,000-sf) twin gymnasium;
fitness centre with weight and cardio equipment;
kitchen and coffee shop;
active studio for various fitness classes;
numerous multi-purpose rooms;
games and snooker room;
seniors and youth lounges; and
preschool play centre.
The changerooms provided in the centre reflect the needs of the community by offering family/universal, as well as private gender-specific, spaces.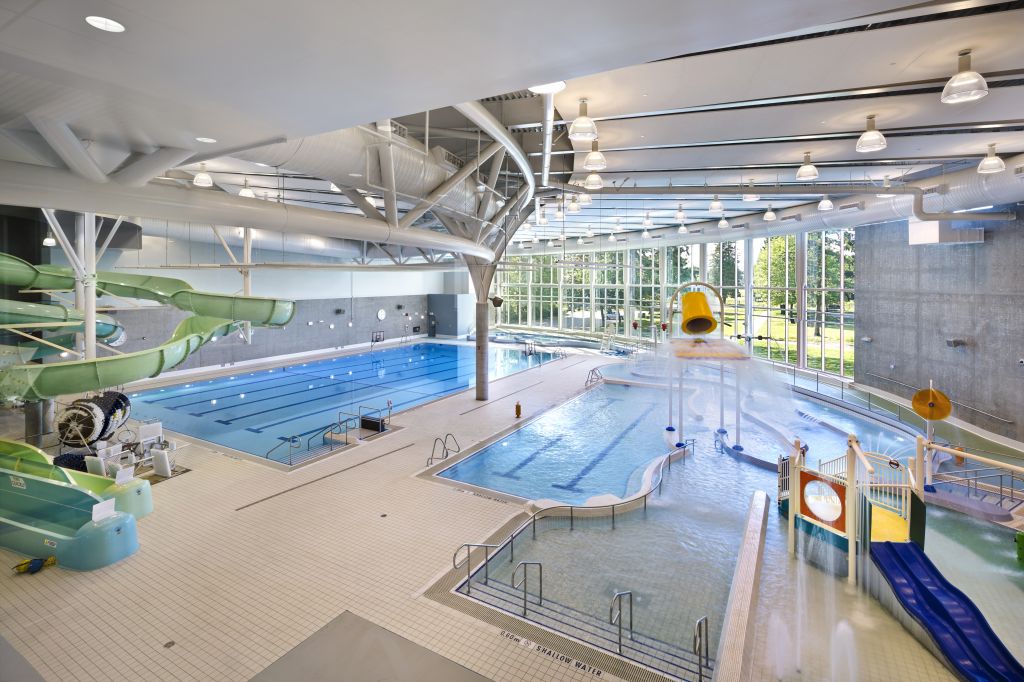 Light-emitting diode (LED) fixtures were used in the aquatic area in overhead lane lighting to guide swimmers, and colour-changing installations inside the pool tanks. LEDs are commonly specified for aquatic facilities because they are more durable and use less energy than other traditional lighting fixtures. The facility also includes a low-voltage lighting control system.
Targeting Leadership in Energy and Environmental Design (LEED) Silver certification, the centre employs sustainable elements throughout. For example, the building boasts a white roof membrane that reflects sunlight, decreasing the urban heat island effect. Radiant heating is used in some locations within the building and a displacement ventilation system in the gymnasium provides a constant flow of air at low levels, for greater comfort.
On the exterior, various low-lying vegetated depressions (i.e. rain gardens or bioswales) collect the runoff from some parking areas. These installations allow pollutants to be absorbed by the soil rather than make their way into the stormwater system.
Additionally, an underground parking garage reduces the space required for surface parking, limiting heat absorption. It also ensures the nearby Richmond Park is preserved as greenspace, rather than paved over.
"Materials selected for Edmonds Community Centre and Fred Randall Pool were made to respond to the social and cultural character of its community, and to reflect Burnaby's vision," CEI Architecture's Mary Chow told Construction Canada Online. "We wanted to ensure the building becomes an anchor for its neighbourhood and provides a welcoming experience for new and existing residents alike."

Control the content you see on ConstructionCanada.net!
Learn More.