Coloured glass stages a comeback
September 1, 2012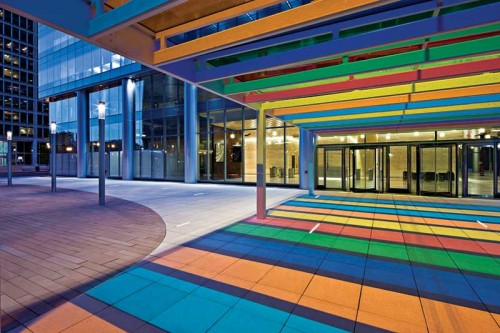 By Aimee Davis
For more than 700 years, stained glass has added a colourful glow in structures around the world. From the windows of centuries-old European cathedrals to the Tiffany-coloured creations found in some of North America's most iconic structures, stained glass has had a rich architectural history.
Financial and performance constraints over the years have meant its use in modern architecture became limited until recently. Now, with advances in technology, the opportunity for coloured glass is coming back in new and exciting ways.
The evolution of coloured glass
The idea of adding hues to glass dates back to the medieval era, when coloured and painted window glass was first used in religious buildings. From that point on, stained glass has graced the windows of some of the world's most architecturally and culturally significant buildings.
Fast forward to the late 20th and early 21st centuries, in an era where each building component is being developed for maximum performance. Stained glass has been tainted with a reputation for being impractical and out of sync with high-performing building materials.

[2]Today, glass is at its best when it is low in maintenance and can perform economically against harsh elements. The lead panes dividing each coloured segment and the structural weakness of the stained glass method often exclude it from the blueprints of modern, environmentally conscious building plans. Although stained glass has become infrequent in its use, the desire to infuse colour into architecture remains. Enter laminated glass with pigmented interlayers.
The power of pigmented interlayers
Laminated glass consists of two glass layers bonded together by a thin, flexible, plastic interlayer under heat and pressure. The resulting piece looks like traditional glass, but has incredible strength. It can be used in place of regular glass in nearly any architectural application, from curtain walls and exterior windows or overhead glazing to interior partitions and decorative elements. In addition to its many performance benefits, the introduction of an interlayer also offers tremendous esthetic benefits, including custom hues.
By sandwiching up to four pigmented interlayers, it is possible to achieve more than 3000 transparent or translucent glass colours. This provides pure colour and transparency (or varying degrees of translucency) that is durable and easy to maintain and install. When interlayers use highly resilient pigments (as opposed to ink-based colourant), the true colour lasts for years, even when exposed to direct sunlight.
Unlike stained glass, coloured glass flows without interruptions or divisions in the design. The fluidity of entire walls made of coloured glass creates an esthetic that can enhance a building's design, not clash with its modern façade.
Introduced nearly 20 years ago, the pigmented interlayer system for laminated glass has been soaring in popularity in recent years. The sheer number of contemporary buildings around the world that glow with colour testify this system brings the medieval glass-making tradition up to speed with current glazing technology.
Colour use around the world
Use of colour in laminated glass applications is thriving. While Europe has historically been the largest market for this type of laminated glass, architectural design trends across Asia Pacific and the Americas demonstrate tremendous growth in the use of high-performance colour glazing technology over the past two years.
In the Asia Pacific region, demand for pigmented interlayer systems grew 13 per cent from 2009 to 2010, and 29 per cent from 2010 to 2011. In South America, demand for pigmented interlayer systems grew by 42 per cent from 2009 to 2010 and another 30 per cent from 2010 to 2011. North American demand was more modest, growing four per cent from 2009 to 2010. However, specification leapt forward by 23 per cent from 2010 to 2011.
Global attention to coloured glass has resulted in applications reflecting each region's culture, approach to design, and style that makes a statement. Working with an entirely new colour palate, designers are rethinking the power of colour in buildings and how interlayer technology can illuminate new design possibilities.
Applications
Architects and designers continue to push the envelope, developing innovative colour design methods for glazing applications that can provide solutions to many architectural design challenges. Custom interlayers can produce a broad spectrum of hues and moods unachievable using glass stock selection.
Creating interior accents
Nothing adds interest to an interior like colour. Perhaps among one of the most famous uses of coloured glass and architecture in recent years is Brunete Fraccaroli's Japanese barbeque restaurant in Sao Paulo, Brazil. As a designer who specializes in hospitality environments, Fraccaroli often implements graduated-film-laminated inside glass to bring dimension out of a flat plane. In this project, slanted glass is supported by sloping beams clad in purple polyvinyl butyral (PVB)-laminated reflecting mirrors, which are integrated into the same plane as the glass.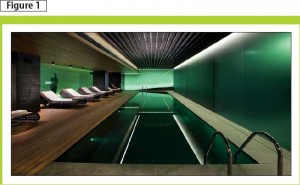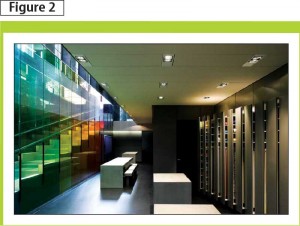 Setting a mood or tone
Studies have shown a correlation between colour and activity; certain colours encourage activity and enhance energy while others soothe and promote relaxation. (See "The Manchester Colour Wheel: Development of a Novel Way of Identifying Colour Choice and its Validation in Healthy, Anxious, and Depressed Individuals" by Helen R Carruthers, Julie Morris, Nicholas Tarrier, and Peter J. Whorwell. For more information, visit www.biomedcentral.com/content/pdf/1471-2288-10-12.pdf[5]). For example, The Spa at Mandarin Oriental, in Barcelona, Spain, showcases the power of colour in a practical application (Figure 1).
Designer Patricia Urquiola lined the walls of this hotel/spa with glass that emits a soft, emerald glow. Participating with the facility's deep wood floors and clean, simple lines, the coloured glass reflects soft lighting that is just as soothing as it is helpful for guests. Vast green walls work like a pathway as they unify the various amenities offered in the spa: deep lap pools, dimly lit steam rooms, and massage therapy.
Another European application shows off how a basic office space was supplemented with colour to add energy and edge to the workplace. Designer Petere Saville and architect David Adjaye collaborated on the new London headquarters of Kvadrat, a Danish textile company (Figure 2). A staircase of rainbow proportions cuts through the office foyer, casting a full colour spectrum against bricks walls, wooden steps, and sleek handrails. Stairs are a transient space, and therefore a 'busy' glass vertical design can be used because it is experienced in stages as a person ascends a staircase. A strong statement with a relatively simple design, the project is an ideal case study in how colour can ramp up the spirit of an old building.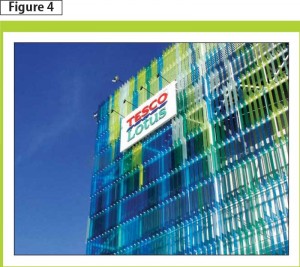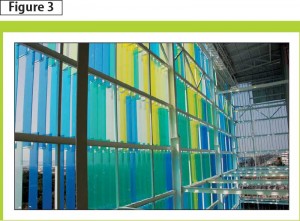 Strengthening the connection between building and landscape
When there is a predominate colour in the surrounding landscape, bringing it into the built environment can strengthen the connection between the exterior and interior. In Thailand, architect Pipupong Chaowakul (Thisdesign Co.) used coloured glazing for effect in a new shopping centre in the coastal city of Laem Chabang––a popular tourist destination.
The blue-green vertical colour palate of the Harbor Mall façade was inspired by the movement and feel of the waves in the nearby Gulf of Thailand. From inside the building, shoppers experience the changing colours of waves as they gaze through the gradient colour system into the sunlight (Figure 3). From the outside, the building's marine colours beckon tourists who have come to enjoy the sea (Figure 4).
Generating exterior interest
The right colour in the right place can stop people in their tracks and encourage further exploration. Celebrated Montréal artist and architect Hal Ingberg used brightly coloured glass to create a public art installation, named "Papa," in Gatineau, Québec (Figure 5). The peaked structure is made up of a series of vibrantly coloured glass panels that add brilliance to an ordinary intersection in the heart of Canada's capital region in Québec.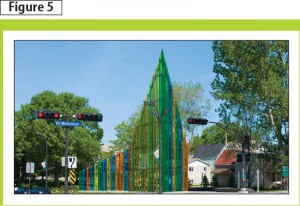 A glass wall reaches a 14.4-m (47-ft) height at the park's southwest corner, and was designed to act as a gateway to the city and its park, according to Ingberg. The installation spirals downward to 2.4 m (7.9 ft), inviting pedestrians and cyclists to sit and contemplate the ever-changing play of sunlight through the transparent, coloured glass. The dramatic use of coloured-laminated glass walls and spirals assures "Papa" as not only a major public art installation, but also a standard for the future of Canadian design.
Noted colour glazing specialist Andrew Moor often reminds clients a great deal of glass in buildings is more than just vision glazing. Spandrel panels, structural fins, stairwells, partitions, elevators, and even furniture can be created with coloured glass to add accent and rhythm into a facility while leaving the vision glazing clear.
Wayfinding
Colour can make it easy for people to find where they are going in the built environment. At Paris' Charles de Gaulle Airport's Terminal 2G, boldly coloured glass is used to help visitors identify the appropriate exits for taxis, shuttles, and parking. In St. Louis, Missouri, Centene Corp., uses a coloured glass outdoor canopy to guide building occupants to the entrance/exit to the parking structure.
Improving the experience of building inhabitants
A recent study by Helene Arsenault, BArch, March Herbert, PhD, and Marie-Claude Dubois, PhD, examined the effect of coloured glazing on the office environment.2 It investigated human responses to blue, bronze, and neutral curtain wall. Results indicate a preference for bronze glass––in terms of visual comfort, pleasantness, and light level. Participants in the study noted objects and textures in the presence of bronze glass were perceived as more natural and pleasant. Participants also preferred the colour and presence of daylight coming through bronze glazing.
The colour comeback
Some might call colour the 'comeback kid' in architectural glazing. In reality, though, interest in colour never really faded. The simple fact is technology finally caught up with that interest by combining the power and versatility of coloured architectural glazing with the high-performance characteristics required of today's building products. As an increasing number of architects around the world understand and use pigmented interlayer technology, the future for coloured glazing looks bright indeed.
Aimee Davis is the Americas architectural business manager for Solutia Inc., a subsidiary of Eastman Chemical. She is also the global marketing communications manager for the company's Advanced Interlayers division. A member of the International Colour Marketing Group (CMG), Davis currently co-chairs the contract colour division. Last year, she led colour-forecasting workshops at an international conference. Davis can be reached via e-mail at aldavi1@solutia.com.
Endnotes:
[Image]: http://www.constructioncanada.net/wp-content/uploads/2015/11/5I1B7936.jpg
[Image]: http://www.constructioncanada.net/wp-content/uploads/2015/11/Laminated.jpg
[Image]: http://www.constructioncanada.net/wp-content/uploads/2015/11/f1.jpg
[Image]: http://www.constructioncanada.net/wp-content/uploads/2015/11/f2.jpg
www.biomedcentral.com/content/pdf/1471-2288-10-12.pdf: http://www.biomedcentral.com/content/pdf/1471-2288-10-12.pdf
[Image]: http://www.constructioncanada.net/wp-content/uploads/2015/11/f4.jpg
[Image]: http://www.constructioncanada.net/wp-content/uploads/2015/11/f3.jpg
[Image]: http://www.constructioncanada.net/wp-content/uploads/2015/11/f5.jpg
Source URL: https://www.constructioncanada.net/coloured-glass-stages-a-comeback/
---