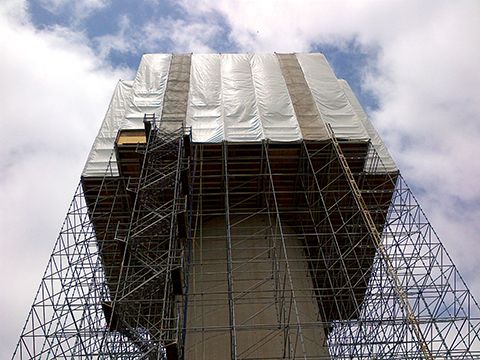 Conclusion
Many engineers and contractors specializing in water storage tanks and reservoirs agree coating technology for these projects has made significant advancements during the past two decades with the adoption of zinc-rich primers, superior UV-resistant finish coats, and concrete resurfacers.
The specialists also expect continued emphasis on inspection and maintenance of elevated tanks and reservoirs to ensure the country's drinking water is clean, safe, and in adequate supply for future generations.
"As municipalities become better educated and more involved in the management of water tanks and reservoirs, they are relying more on proactive maintenance programs than reactive maintenance, with the primary goal of maintaining a high level of service to customers at minimal costs," CRA's Chris Hunter added.
Cellular antennas complicate water tank coating projects
Wind, weather, and confined jobsites have always created challenges for engineers and contractors who work on water tank projects, but now there is another complication to contend with: cellular antennas.
In most municipalities, elevated water towers are constructed on the highest ground available in order to achieve maximum water pressure. This makes the towers ideal for attaching cellular antennas, which can play havoc when major renovation work is required.
"That is one of the biggest challenges we face today," said Mike Elliott, associate partner and project manager with CIMA+. "Clamps used to attach the antennas to guardrails on the tank dig into the existing coatings causing corrosion and rust."
On the 3.8-million L (1-million gal) composite tank in Chatham-Kent, Ont., 15 cellular antennas were attached to a guardrail encircling the structure. The lease agreement for the water tower provided for the removal of the antennas to accommodate the recoating project. CIMA+ also designed a stainless steel antenna support structure allowing the antennas to be bolted to the top of the tank after the project was completed.
Concerns over the cellular antenna issue were echoed by Region of Peel's Anthony Parente, in the Greater Toronto Area (GTA). "When we put up new tanks, we want to ensure they can accommodate the cell phone industry, while covering the capital cost associated with doing that," he explained.
Elliott and Parente emphasized municipalities need to address the removal of cellular antennas for major renovation projects in their lease agreements with communications companies.
"Dedicated antenna support structures are another trend," Elliott added. "When a major recoating project is required, the support structure can be removed and placed on the ground where it is not in the way of scaffolding or coating crews. When the work is finished, the support structure and antennas can be craned back up to the top of the tank."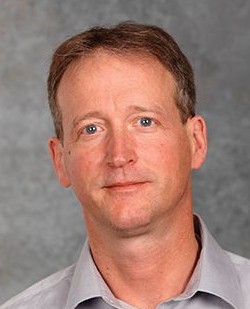 David Walker has more than 25 years of experience in the protective coatings industry. He is a NACE Certified Coating Inspector and belongs to both the Society of Protective Coatings (SSPC) and the American Water Works Association (AWWA), as well as the AWWA Coating Standards committees. Walker holds an honours bachelor's degree in business administration from Wilfrid Laurier University in Waterloo, Ontario, and a master's degree in business administration from McMaster University in Hamilton, Ontario. He can be contacted at dwalker@tnemec.com.

Control the content you see on ConstructionCanada.net!
Learn More.