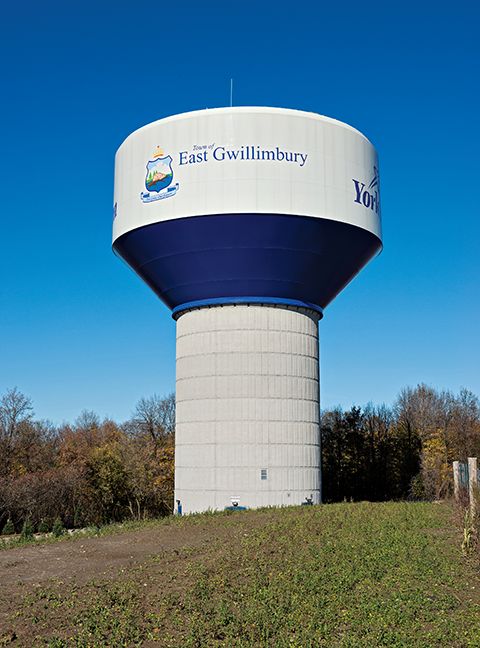 By David Walker
Municipalities, towns, and cities across Canada are pumping up inspections of elevated tanks and underground reservoirs where drinking water is stored, according to engineers and contractors specializing in steel and concrete infrastructure used for potable water storage.
At consulting engineering firm CIMA+, associate partner Mike Elliott has worked on assessments of five elevated water storage tank projects to determine the tank's condition including the internal and exterior coating systems. These assessments are conducted by certified coating specialists to evaluate the systems for continued service, maintenance, or remediation.
Throughout the country, regulatory agencies are following the recommendation of the American Water Works Association (AWWA), calling for comprehensive tank inspections every three to five years.
"Municipalities are becoming smarter about conducting regular inspections and taking better care of these assets," said Elliott.
Elliott cited the example of a 3.8-million L (1-million gal) composite water tank owned by the Chatham-Kent Public Utilities Commission in Ontario. The inspection revealed significant rust bloom on the roof, as well as spot corrosion throughout the structure built in 1994. Given its poor condition, inspectors recommended complete removal and replacement of the nearly 20-year-old coatings.
The Chatham-Kent water tank was enclosed with full scaffold and contained under negative air pressure during the removal of the old exterior paint and before the application of a new fluoropolymer coating system. Ongoing inspections throughout the various stages of surface preparation and coating application ensured contractors conformed to CIMA+ project specifications.
Following standards
CIMA+ specifications are stringent when it comes to surface preparation and coating application. Interior steel was prepared in accordance with Society for Protective Coatings (SSPC) 10/NACE No. 2, Near-white Blast Cleaning. Exterior coatings were removed and the steel prepared in accordance with SSPC 6/NACE No. 3, Commercial Blast Cleaning.
CIMA+ follows AWWA standards for outside coating systems (OCS) and inside coating systems (ICS) for the surfaces of steel tanks used for potable water storage. These standards are neither specifications, nor certify specific products. Rather, the AWWA standards reflect varying technologies widely used in the industry. Each system reflected in the standard offers differing cost, scheduling, and longevity implications.
For the OCS, CIMA+ specified an organic zinc-rich primer, an aliphatic acrylic polyurethane intermediate coat, and a low volatile organic compound (VOC) fluoropolymer finish coat.
The ICS consisted of a zinc-rich urethane and a 100-per cent solids epoxy topcoat certified by NSF International as per NSF/ANSI 61, Drinking Water System Components–Health Effects, which sets criteria for potable water system components including protective coatings. Organic zinc-rich primers offer an unlimited maximum recoat window allowing contractors maximum flexibility in planning work.
After the ICS had cured, high-voltage holiday testing was performed in accordance with NACE SP-0188, Discontinuity (Holiday) Testing of New Protective Coatings on Conductive Substrates, to detect the presence of defects in the coating film such as pinholes, voids, cracks, or thin spots. Holiday testing involves a procedure for electrical detection of discontinuities that are not readily visible in nonconductive coating systems. Typically, low-voltage testing is used on cured coating systems of less than 508 µm (20 mils) dry film thickness (DFT). High-voltage holiday testing is required for cured coating systems that are thicker than 20 mils DFT. Testing is conducted on 100 per cent of the internal tank surface to ensure the coating is continuous in all areas and repairs are made wherever holidays are detected.

Control the content you see on ConstructionCanada.net!
Learn More.