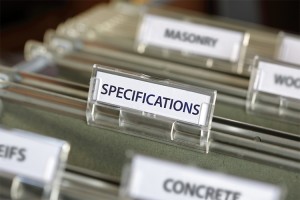 By Vrej-Armen Artinian, CSC, CSI
Co-ordination is the basis of specifications, an aspect of its principal functions, and one of the spec writer's primary tasks. It manifests itself at various phases of the writing process, as well as within different parts of the project manual itself.
For the successful development of a building project, co-ordination is necessary at the following three levels:
With the owner, so his/her requirements are understood, both in administrative matters and technical aspects.
Among the professionals (i.e. architects, engineers, and other consultants) in terms of complementing each other's work and ensuring everything is synchronized in the complex endeavour that is building construction.
Within each team or discipline of professionals to ensure what is shown on drawings and what is prescribed in specifications correspond correctly and complete one another.
Co-ordination is also required onsite during the execution of the contract by the contractor, but that is a different subject and will be referred to in as much as it is mentioned in the project manual.
First thing's first 
Although a project starts before any documents are prepared, co-ordination is required even at the client-professional agreement level to clarify the client's exact requirements and the precise mandate of each of the professionals. The building program clarifies user requirements, including technical aspects like finishes, visual elements, ventilation, and green construction elements.
The concept and preliminary design phases are important landmarks requiring involvement of the specification writer, since it is here the owner's requirements become clearer and the designers begin translating them into lines and volumes. Most decisions related to finishes and special requirements (e.g. biological confinement) can very well be determined in advance at the preliminary phase, saving time and effort at the final design phase. Overall, co-ordination is critical at the final stage when the project manual is put together.
MasterFormat Division 00–Procurement and Contracting Requirements (Section 00 72 00–General Conditions) first makes mention of the contractor's obligation to co-ordinate the various aspects of work under the contract with all the subcontractors and suppliers, any other contractors onsite, and the owner's own forces as described in Canadian Construction Documents Committee (CCDC) 2, Construction by Owner or Other Contractors, if such is the case. This is especially true when multiple contracts are involved or when the owner is responsible for some of the work (e.g. removal of existing furniture and equipment).
General Conditions also prescribes the contractor check and co-ordinate each shop drawing before submitting to the consultants for review. This ensures submitted drawings conform to requirements set out in the contract.
Division 01–General Requirements makes extensive references to the contractor's obligation to co-ordinate, starting with the requirement to ensure all subcontractors and suppliers read and understand the provisions and abide by them (i.e. Sections 01 11 00–Summary of Work or 01 12 00–Multiple Contract Summary). (These identification numbers correspond to MasterFormat Level 2 section numbers, which the author prefers to use in his practice, while National Master Specs (NMS) have generally similar, but more specific, section numbers). Unfortunately, this rarely happens, since subs and suppliers receive only the technical sections concerning their work and almost never the general requirements or the related sections where some of the accessory products are described. This practice is detrimental to the integrity of the bidding and building process, which can result in claims for extra costs by the sub-trades.
The same section confirms the need to co-ordinate with others onsite. When working in existing buildings, contractors must also co-ordinate with the building's owner or users for shutting down services, receiving of materials, executing dust-, odour- or noise-producing work, etc., and delivering parts of the completed work for early occupation. This last requirement is also true for new buildings.
The owner's responsibilities regarding paying for tests are set out in Section 01 20 00–Price and Payment. It is critical co-ordination occur between the consultants and the owner to determine which tests the latter will be responsible for paying before the bidding process begins. The technical sections should make very clear what tests are required (e.g.  air- and watertightness, thermal performance of roofing and curtain wall assemblies, fume hood or cold room performance) to avoid confusion.
Section 01 30 00–Administrative Requirements provides more detail about co-ordination between the contractor, subcontractors, and workers. Another required element is the presentation of submittals in a timely manner, synchronized with the sequence of work. Again, the contractor must verify the submittals to ensure they are in conformity with the contract documents and easily identified with the part of work concerned.
Other noteworthy sections are:
Section 01 40 00–Quality Requirements, which refers to co-ordination between the contractor and testing companies regarding considerations like access and delivery of samples or mockups; and
Section 01 50 00–Temporary Facilities and Controls, which provides information regarding co-ordination between the owner and contractor for temporary services, such as water and power.
Although MasterFormat does not have an assigned section number for specific requirements regarding Leadership in Energy and Environmental Design (LEED) per se, please refer to Section 01 35 21–LEED Requirements of the National Master Specification (NMS) for co-ordination in
that domain.
One important aspect of co-ordination is the timely ordering of specified products as prescribed in Section 01 60 00–Product Requirements to ensure their availability or, if necessary, substitution by other products of the same quality without additional cost to the owner or delay of the work.
The co-ordination requirements to ensure existing substrate conditions or previously executed work on which new work will be applied (e.g. finishes) are adequate is specified in Section 01 70 00–Execution and Closeout Requirements. Similarly, demonstration and commissioning described in Section 01 79 00–Demonstration and Training and Section 01 90 00–Life Cycle Activities are to be co-ordinated with consultants and various trades, as well as LEED requirements.
Mutual references
All technical sections prescribe co-ordination requirements of their own. Without reviewing every single one, it is wise to remember a few, if only to mention them as examples. Items to be co-ordinated between architects and structural engineers include:
masonry wall reinforcement and bracing;
lintels for openings in both the interior and exterior walls;
parapet and exterior stud wall work;
stair design; and
other metal work (e.g. platforms, mezzanines, supports for cladding, curtain wall, various partitions, moveable partitions, very large openings, loading dock design, window-washing systems, and landscaping).
These and many other items in their specific sections should have mutual references in the specifications provided by the architect and civil/structural engineers.
Similarly, mutual references must appear in architectural and electromechanical documents concerning the following:
demolition;
access panels in walls and ceilings;
built-in furniture;
roofing;
fire and smoke protection assemblies;
hardware (specifically electrified hardware);
motorized doors and other items;
sealants;
tile work;
ceilings;
washroom accessories;
laboratory furniture and fume hoods;
special purpose rooms (e.g. clean rooms);
elevators; and
landscaping.
Co-ordination among a project's architects, engineers, and other consultants must also occur when it comes to the visual presentation of the documents, the official information (e.g. project title), the issuing of the documents at different stages of advancement, the sequence of the sections, and the volumes to incorporate the various disciplines.
All these can be streamlined from the beginning to avoid modifications later in the process, which can create delays and increase expenses.
It is worthwhile repeating the importance of internal co-ordination between various parts of the specs, as well as between the specs and the drawings of each discipline. This ensures items referred to in one place appear where cited and vice versa. Further, they are easily and correctly identified by type and section number. In addition, when referring in a technical section to a prescription in Division 01, care must be given to ensure the relevant article
is indicated.
Similar to organizing a project's drawings, the preparation of its specs is one continuous exercise in co-ordination.
Vrej-Armen Artinian, CSC, CSI, is a graduate of Cairo University (B.Arch, 1964) and McGill University (M.Arch, 1969). He started his career specializing in the design of school buildings, then moved on to industrial buildings, laboratories, and research centres. Artinian has been a specification writer at Montréal-based NFOE et associés architectes since 1992. He is a member of Construction Specifications Canada (CSC), Ordre des architectes du Québec (OAQ), Construction Specifications Institute (CSI), Conseil du bâtiment durable du Canada (CBDCa) Section du Québec, and Conseil de l'enveloppe du bâtiment du Québec (CEBQ). A writer contributing to Montréal's Armenian press, he can be contacted via e-mail at vrejarmen@hotmail.com.

Control the content you see on ConstructionCanada.net!
Learn More.