CN Tower gets gold-level certification for accessibility
by arslan_ahmed | December 22, 2022 3:42 pm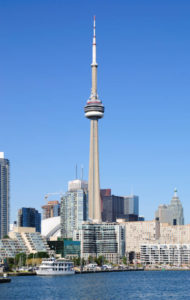 CN Tower recently received the highest certification from the Rick Hansen Foundation for its years' worth of retrofitting and renovation efforts to make the landmark accessible for everyone.
For the CN Tower, accessibility has been a priority since 2015, although there has been a fair share of challenges in retrofitting a structure such as this to become more accessible for people of all abilities.
Over the years, the work achieved so far was done with consultation from accessibility experts. In 2012, CN Tower's EdgeWalk was made accessible, and overall, the structure has been transformed through various upgrades such as the installation of floor-to-ceiling windows along the observation deck's walls, and the dismantling of accessibility impediments associated with the view.
Chief Operating Officer of the tower, Peter George told CBC[2], the ongoing renovation of the outdoor terrace below the deck also aims to increase accessibility across different locations within the tower.
"Ensuring our building is accessible and inclusive means that everyone can feel welcome [when] visiting the tower," says George. "It also helps us attract a diverse team of talented people to work here, and that benefits everyone."
"As we work together to create an accessible and barrier-free Canada, we need to ensure that everyone can access spaces and buildings," says Carla Qualtrough, the federal minister of employment, workforce development and disability inclusion.
Rick Hansen created his foundation in British Columbia after finishing a nearly two-year-long trip around the world, which he accomplished in his wheelchair. The foundation has been around for more than three decades. Hansen's efforts for inclusivity of people of all abilities and finding the cure to paralysis have led to his popularity. He was one of the first people in a wheelchair to complete the CN Tower EdgeWalk in 2015.
"One in five Canadians have a disability and this is only growing as our population continues to age," said Hansen a video. "And it's important that iconic Canadian attractions, like the CN Tower, are enjoyed by people of all abilities."
Endnotes:
[Image]: https://www.constructioncanada.net/wp-content/uploads/2022/12/Toronto_-_ON_-_Toronto_Harbourfront7.jpg
CBC: https://www.cbc.ca/news/canada/toronto/cn-tower-accessibility-gold-level-certification-rick-hansen-foundation-1.6647728
Source URL: https://www.constructioncanada.net/cn-tower-gets-gold-level-certification-for-accessibility/
---