The final winners of the biennial Canadian Institute of Steel Construction (CISC) Steel Design Awards of Excellence have been selected from among regional winners from across Canada. Announced in early October, these four winners have each had success in one of the competition's four categories: architectural, engineering, sustainability, and bridges.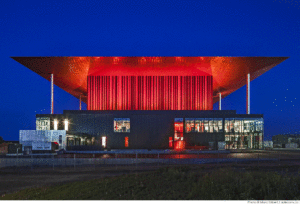 Architectural
The architectural category was awarded this year to the Cogeco Amphitheatre in Ville de Trois-Rivières, Qué. The use of lightweight steel in this 14,000-m² (150,700-sf) structure's exposed columns, joists, and chords facilitated the project goal of speed. The project team included architects Paul Laurendeau, Francois Beauchesne, and the Consortium of Architects, as well as structural engineers Stantec and DPHV. Information regarding the full team that worked on this lightweight and efficiently built amphitheatre can be found here.
Engineering
The Queen Richmond Centre West project in Toronto was selected as the winner for this year's engineering category. This complex features steel mega delta frames that appear to naturally merge together at the nodes, as well as a large atrium surrounded by three buildings. Sweeney & Co. Architects Inc., Stephenson Engineering Limited, Walters Group Inc., and Cast Connex constructed the Queen Richmond Centre using a collaborative approach that led them to this structurally sound, visually appealing solution.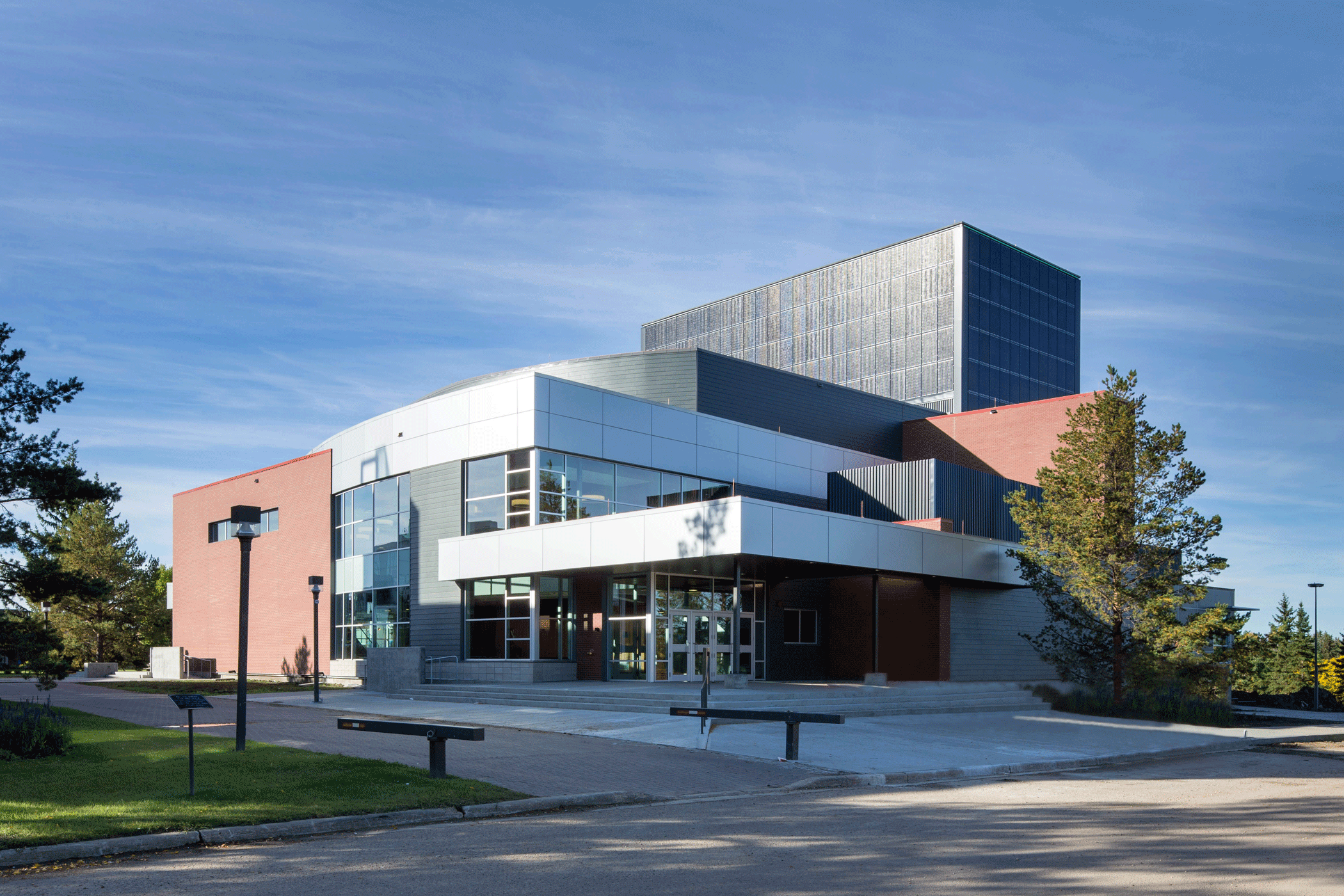 Sustainability
The Jeanne and Peter Lougheed Performing Arts Centre in Camrose, Alta. earned an award in this year's sustainability category. Green features were a major component of this building's construction; it currently includes a fly-tower entirely covered in solar panels and uses only light-emitting diode (LED) lighting. The theatre was built by architect BR2, structural engineer Read Jones Christoffersen, project manager Clark Builders and fabricators Whitemud IW and Canam Group, in collaboration with the municipality, region, and province.
Bridges
This year's bridge category winner, the Strandherd-Armstrong Bridge south of Ottawa, was determined to have made exceptional use of steel. The lightweight, flexible nature of this metal allows the bridge to accomplish its esthetic and structural goals, with arches that rise to 21 m (70 ft) and an opening of 125 m (410 ft). Now named the Vimy Memorial Bridge, this project was engineered by Harbourside Engineering Consultants and designed by Parsons (formerly Delcan). A list of parties involved in this esthetically appealing, traffic-improving project can be found on the CISC website.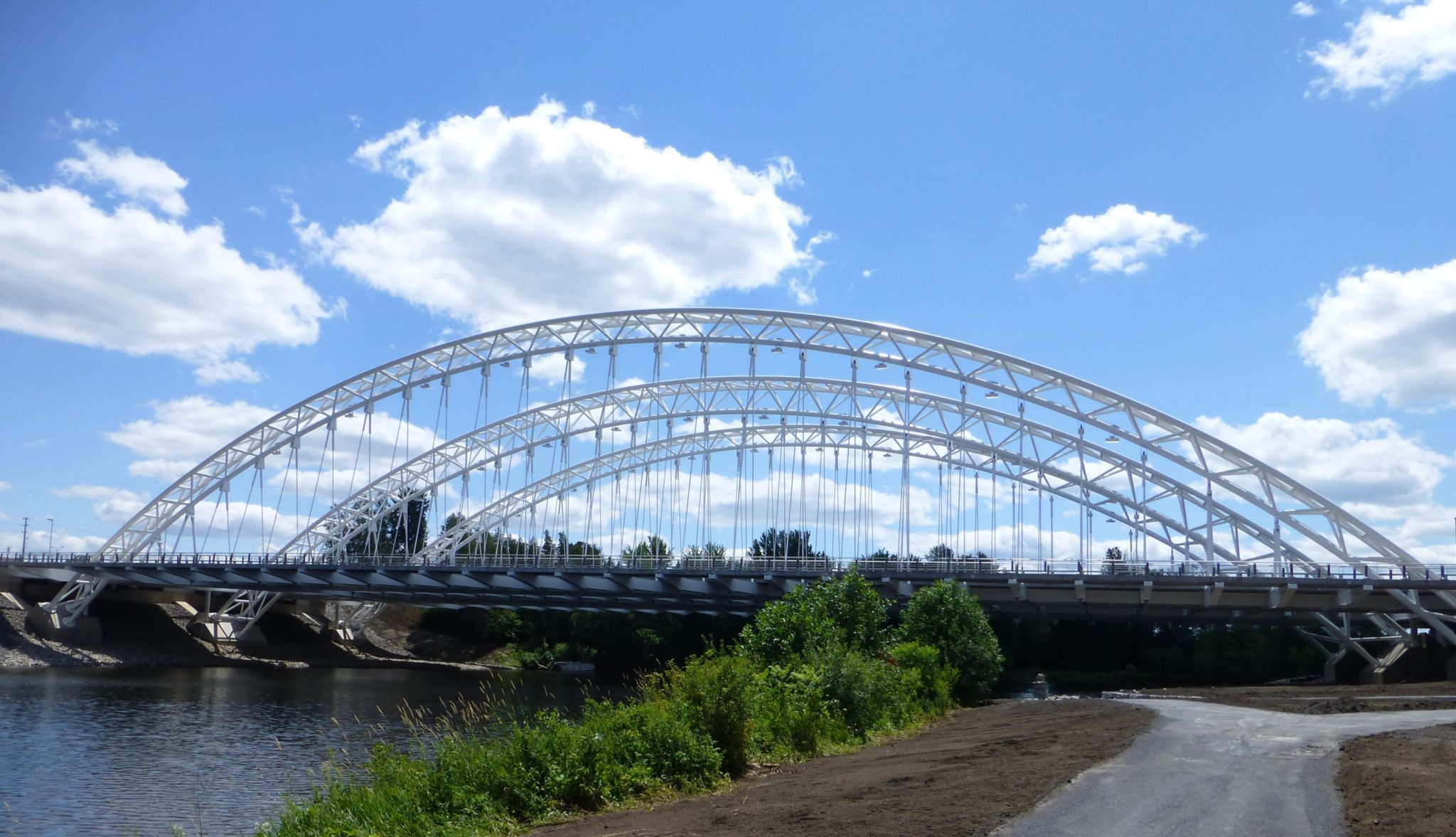 The 2016 CISC National Steel Design Awards featured a panel of judges from various industries: Andy Metten, P.Eng., Struct. Eng. (Bush, Bohlman & Partners LLP), Sean Jahanfar, P.Eng., BDS, LEED AP (HDR Inc.), Kris Mermigas, M.A. Sc., P.Eng. (Ministry of Transportation), Gerry Lang, M.Arch., OAA, AIA (architectsAlliance), and Roger Pavan (Pavan Architects Inc.).