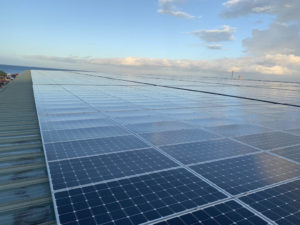 By Rob Haddock
With the introduction of the Fall Economic Statement 2022,1 Canada's version of an investment tax credit (ITC) to help spur the transition to net-zero energy, 30 per cent tax credits will soon be offered to entities that invest in net-zero technologies, battery storage, and clean hydrogen.
The statement asserts, "In light of the U.S. Inflation Reduction Act (IRA),2 significant steps will need to be taken to ensure that Canada remains competitive in North America and the world."
Canada's new legislation for clean energy will cover capital costs for investments made in electricity generation systems such as solar, water, and wind; storage, including batteries; and low-carbon heat equipment and industrial zero-emission vehicles.
According to Canadian Deputy Prime Minister and minister of finance, Chrystia Freeland, "With major investment tax credits for clean technology and clean hydrogen, we will make it more attractive for businesses in Canada to invest in technology and to produce the energy that will help to power a net-zero global economy."
In the U.S., the IRA includes a 10-year extension of the solar ITCs, significant incentives to boost domestic manufacturing throughout the solar production supply chain, tax credits for energy storage, workforce development provisions, and additional policies that promote a clean energy economy—all expected to trigger an avalanche of solar development throughout the nation.
The impact on the metal roofing industry
With the cost of solar decreasing significantly over the last decade, in addition to the new tax incentives driving the popularity of solar, the breakeven and return on investment (ROI) improves every year—this is even more evident with solar on metal roofs, because of the lower combined installation costs (i.e. photovoltaics [PV] plus roof). This also makes even greater sense financially and is expected to stimulate the growth of metal roofing in Canada.
Metal: The most solar-friendly roof available
Service life
Metal roofing is attractive, durable, non-flammable, and requires minimal maintenance. It is a natural choice for mounting solar PV as it provides an ideal platform and features a service life which exceeds the service life of a solar PV system.
According to a Berkeley study,3 the service life of solar PV is between 28 and 37 years, with an average of 32.5. Most alternative roofing systems expire long before the life of the PV system. This leads to costly disassembly of the PV array, re-roofing, and re-assembly. A standing seam metal roof (SSMR) is the only commercial roof type featuring a service life that exceeds the solar PV system.4
The Metal Construction Association (MCA)5 published an empirical field/data study, supported by lab analyses in the low-slope metal roofing market sector. The study indicates the service life of 55 per cent aluminum-zinc (55 per cent AlZn coated steel) SSMR is in the range of 70 years in non-coastal applications. Fifty-five per cent AlZn steel—having various tradenames—is the commercial standard for SSMR.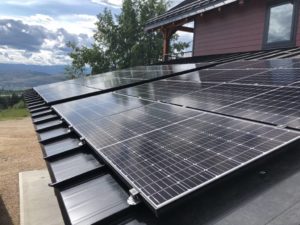 Other metals used for roof applications can have even greater service lives. Stainless and natural metals, such as copper and zinc, have service lives for more than a century, but a 70-year service life far exceeds that of a non-metal commercial roofing system, which generally expires around 15 to 20 years.
Increasingly, building owners are choosing coated steel SSMRs over asphaltic and membrane roofs because the initial cost premium of 20 to 30 per cent is a bargain, given SSMRs outlive those alternatives by three to four times.
Sustainability
Metal roofing is sustainable because of its extended service life, low consumption of natural resources for production, zero-petroleum byproducts, and recyclable properties. At an 85 per cent recycle rate,6 steel is the most recycled construction material available, only second to copper. This is important information for building owners and designers who are conscious of environmental and economic efficacies. Old metal roofs rarely end up in landfills—saving dwindling landfill space and helping to protect the environment.

Control the content you see on ConstructionCanada.net!
Learn More.