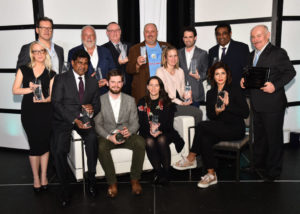 Some of Ontario's best green builders were recently celebrated at the EnerQuality Awards Gala in Vaughan, Ontario. More than 200 industry peers gathered to share concepts and accolades as they help to move the province toward an energy-conscious future.
Larry Brydon, vice-president of business development with Cricket Energy, was nominated to the 2017 Hall of Fame.
Doug Tarry of Doug Tarry Custom Homes was declared 2017 Leader of the Year. Last year, his Project Hope raised funds for the family of late Johnny Nooren, a building inspector from St. Thomas, Ont. A net-zero home was also built in just three days during the fund-raiser. Tarry's project won the 2017 Prestige Award from the Ontario Home Builders' Association (OHBA).
Arista Homes received the 2017 Impact Award, which was introduced in 2016 to recognize a builder's initiatives to reduce carbon emission. Click here for a full list of the winners of the 2017 EnerQuality Housing Innovation Awards.
"Advancing energy-efficient techniques and tools are huge priorities in the building sector to continue to improve healthy living conditions, fight climate change, and minimize unnecessary spending," says Corey McBurney, president of EnerQuality, a certifier of energy-efficient homes.
Prior to the gala, Tom Rand, senior adviser from MaRS (Toronto), delivered a keynote address where he touched upon tangible solutions to combat climate change including his stance on carbon pricing and how sharing a new story of clean energy abundance has the power to engage the public and inspire action.