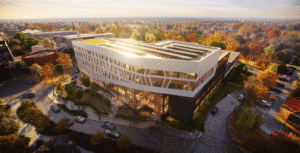 Centennial College has begun construction on a zero-carbon, mass-timber higher-education building, designed based on the Indigenous concept of "two-eyed seeing."
One of the first of its kind in Ontario, the $105 million expansion to the A-Block campus building will embody the college's commitment to Indigenous education and sustainable design when it opens in 2023.
Mass timber, which is composed of a mix of wood strips laminated together to form strong structural components, can substantially reduce greenhouse gas emissions in the building sector; cut wastage, pollution, and costs associated with construction; and create a more esthetically pleasing and healthy built environment. The components are predominantly glulam columns and beams made of wood strips laminated lengthwise, and floor slabs of cross-laminated timber (CLT).
The six-storey addition will provide 13,935 m2 (150,000 sf) of academic programming space for School of Engineering Technology and Applied Science programs; flexible classrooms that support Indigenous ways of teaching and being; as well as support areas such as an engaging student touchdown area, along with collaborative spaces, administrative offices, and food services.
Environmental sustainability is a key attribute of Centennial's new building, being built in collaboration with EllisDon, DIALOG, and Smoke Architecture. Its zero-carbon emissions design, along with its ability to store thousands of tonnes of carbon in its sustainably harvested mass timber wood structure, sets an important precedent. The college is also pursuing a sustainability strategy to reduce energy consumption, aiming to achieve a minimum LEED Gold Standard, WELL certification and a Net Zero, or possibly Net Positive, building designation.