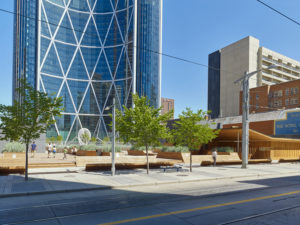 Wood WORKS! Alberta recently honoured architects and engineers who are pushing the boundaries of wood construction at the 10th annual Prairie Wood Design Awards gala.
The Technology and Trades Renewal and Innovation Project (TTRIP) at Lethbridge College won the Institutional Wood Design award. Project team included Diamond Schmitt Architects, Sahuri + Partners, Entuitive Engineering Consultant, and Stuart Olson. Click here for more information on this award.
Calgary's South Bow Plaza by Sturgess Architecture and Entuitive Engineering Consultant won the Jury's Choice Award.
Maples Chiropractic Clinic in Winnipeg was the recipient of Interior Wood Design Showcase award. The project team included 5468796 Architecture, Hanuschak Consultants, and Davis Loeppky Projects.
Remington YMCA in Calgary received a Recreational Wood Design award. GEC Architecture, Read Jones Christoffersen, and Bird Construction Project worked on the project. Elevation Place in Canmore, Alberta, also won a Recreational Wood Design award. Gibbs Gage Architects, ISL Engineering and Land Services, and Graham Construction were involved in this project.
The Commercial Wood Design award was won by two projects—Raw: Gimli Pop Up Restaurant from Manitoba and Raw: Almond Pop Up Restaurant in Winnipeg. The designers of these projects, Joe Kalturnyk, Chad Connery, and Jon Reid, were also the recipients of the Wood Advocate Award.
The North Glenora net-zero townhouses and Westmount Presbyterian Church in Edmonton by Temofychuk Gerbitz Architects and Andy Smith Engineering won the Special Industry Wood Design Award.
The awards program recognizes projects and organizations that advance the use of wood in construction through design excellence, advocacy, and innovation.
A three-member jury panel selected the winning projects from more than 30 entries.
"The winning projects from our awards program demonstrate Alberta's increasing commitment to exploring options for wood in construction," says Rory Koska, program director of Wood WORKS! Alberta. "Advancements in wood research and technology are breaking down barriers for our industry and creating exciting new opportunities for the design community."
For more information on the awards, click here.