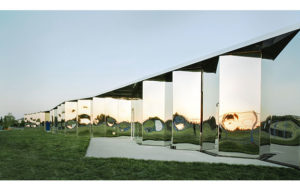 The Castle Downs Park Pavilion in Edmonton, designed by gh3, has won a 2018 Prairie Design Award of Excellence in the Small Projects category.
Three projects won the Award of Excellence in the Recent Works category, including.
The Prairie Design Awards are bestowed every two years by The Alberta Association of Architects (AAA), The Saskatchewan Association of Architects (SAA), and The Manitoba Association of Architects (MAA).  The awards celebrate those setting new standards of creativity and skill in architecture, interior design, and landscape architecture.
In 2018, Awards of Excellence and Awards of Merit were handed out in the categories of Recent Work, Interior Design, Landscape Architecture, and Small Projects. In total, 113 submissions were received. The 2018 Prairie Design Awards ceremony was hosted by AAA.
The 2018 jury members were Zach Pauls (Richard Meier & Partners Architects), Janet Rosenberg (Janet Rosenberg & Studio), Tarisha Dolyniuk (MJMA), Lisa Rochon (City Lab), and Diarmuid Nash (Moriyama & Teshima Architects).