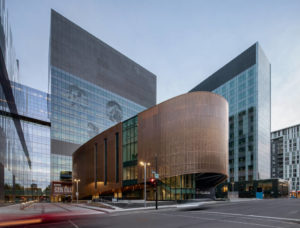 Two of Canada's architectural projects, Centre hospitalier de l'Université de Montréal (CHUM) Auditorium in Montreal and Havergal College Upper School in Toronto, are selected among the 11 winners in North America for their innovative use of copper.
The competition, 2022 North American Copper in Architecture (NACIA) Awards, is carried out by the Copper Development Association (CDA). The judging criteria is based on the design of copper systems within the architecture, the use of copper alloys in the overall building design, the level of skill exhibited in the installation process, and the category the projects fell into, new construction or restoration/renovation.
Both Canadian projects won in the new construction category.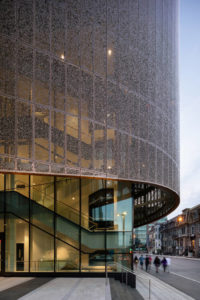 For CHUM, Montreal-based NEUF architect(e)s and Chicago-based CannonDesign provided the architectural services. The design revision, execution, and construction supervision were led by two other Montreal-based firms, Jodoin Lamarre Pratte architects and Menkès Shooner Dagenais LeTourneux architects. CHUM exhibits significant use of copper, most notable in the 365-seat auditorium, where the material weaves its way into the cladding. Copper is also traditionally found in Montreal's historic architecture.
The perforated copper panels of the building's envelope illuminate key elements of the interior at night through their translucent and penetrable properties. Overall, the project's systems, components, and materials were compliant with the building's sustainability objectives and follow the requirements for a Leadership in Energy and Environmental Design (LEED) Silver certification.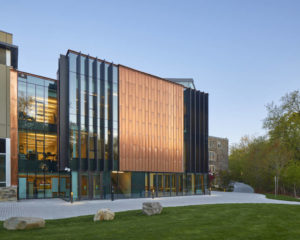 The key entities and firms involved in the Havergal College expansion were architect Diamond Schmitt, copper wall panel manufacturer Ontario Panelization, installer Lake Effect Contracting Co. Ltd, general contractor Buttcon, and structural engineer Blackwell, alongside third party copper reviews provided by CR Systems.
The 2044-m2 (22,000-sf) upper school addition provides the college with a space for learning arts and technology. In the exterior of the building, 454 g (16 oz) copper pans with 50.8-mm (2-in.) single-lock standing seams are used in sills, soffits, and datums, and the curtainwall.