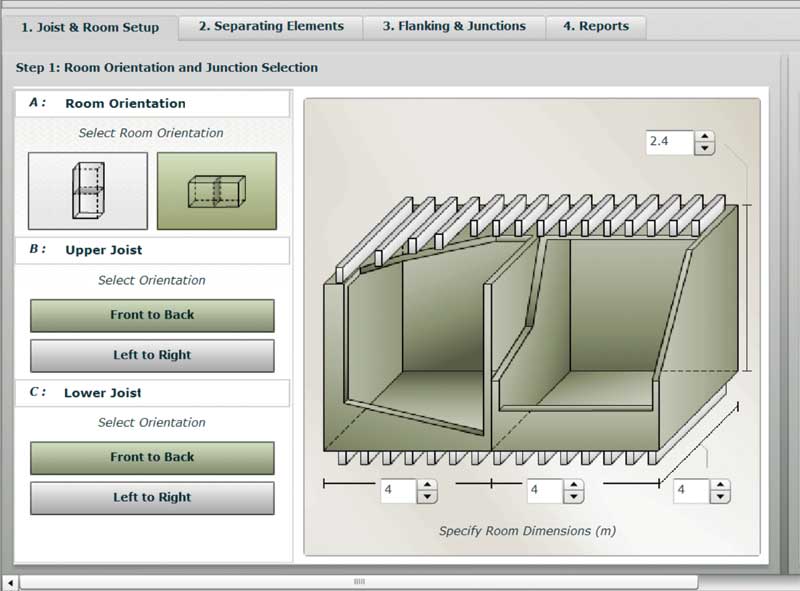 Reliable sound transmission design using concrete block masonry wall assemblies
In 2012, the Canadian Concrete Masonry Producers Association partnered with the National Research Council to undertake a comprehensive laboratory test program to obtain reliable and accurate direct and flanking transmission test data. Data sets obtained by the test program are conservative and intended to bracket the lower system performance limit. These data will be used as input to the RR-331 guide and soundPATHS software.
The project consists of five 'thrusts.' The first included a measurement series in the direct transmission facility on CMU walls of normal weight and lightweight units, bare and with various linings added, to generate updated and new input data for the ISO 15712-1 prediction methods. Thrust 2 included a calculation series of ASTC values using the ISO 15712-1 prediction method for heavy monolithic, isotropic construction that includes CIP floors (and finishes) with concrete masonry walls (and linings).
The remaining three thrusts are each a measurement series in the flanking sound transmission facility on building systems consisting of concrete block masonry walls with wood flooring (Thrust 3), masonry with hollow precast concrete floors (Thrust 4), and masonry with steel joist flooring systems (Thrust 5) to generate input data for junction coupling needed for ASTC prediction using the calculation method. These latter thrusts consist of full-scale mockups (11 m long x 7 m high x 5 m wide [36 x 23 x 16 ½ ft]) of the loadbearing masonry wall, floor system, and junction (with separately constructing and measuring performance for each of X- and T-junctions). Full-scale test mockups are required with the steel or wood joists or hollow core slab running both parallel and perpendicular to the masonry wall because these flooring systems are anisotropic.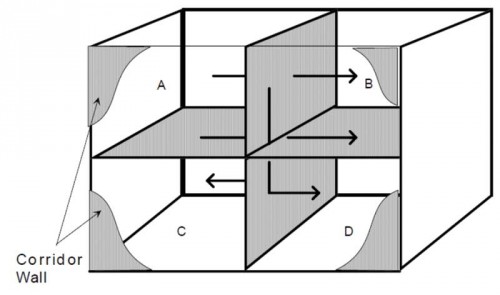 Canada is the only country in the Organization for Economic Co-operation and Development (OECD) without a requirement for impact sound in building codes. However, discussions have already taken place at the NBC Standing Committee level for possible inclusion. Additionally, it is known the code's sound requirements—STC and ASTC—do not effectively address the effects of low-frequency noise. Looking in the longer term, relevant data are also being gathered in this test program to better understand impact sound insulation and low-frequency sound performance for these assemblies in preparation for code change.
Work on the first three thrusts is now completed, and testing on Thrust 4 (masonry/precast floors) will begin shortly. All work is expected to be completed this year.
NRC Report RR-334, Apparent Sound Insulation in Concrete Block Buildings, is in ongoing development as each of these thrusts is completed. (The current draft/edition can be downloaded at doi.org/10.4224/21275887). It is a comprehensive and detailed report, and serves as the basis for the development of the RR-331 Guide for those sections pertaining to concrete block masonry wall systems.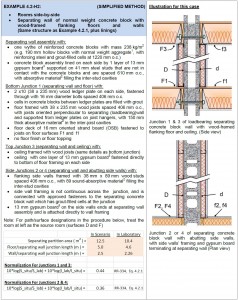 This masonry test program (and the development of design tools supported by it) helps ensure reliable and accurate data to facilitate the design of high-performing and economical assemblies using masonry wall systems with an assortment of linings, and a full selection of commonly used floor assemblies. Compliance with the sound requirements of the NBC can be demonstrated by the users easily and readily.
Conclusion
Substantive changes have come to the airborne sound control requirements in Parts 5 and 9 of the 2015 National Building Code of Canada. The focus now will be to use the ASTC rating rather than STC as the means to better measure and limit sound transmission between building spaces.
Unquestionably, designers, building officials, and construction industries will be heavily affected by these changes. The effects are not limited to the main structural industries such as masonry, concrete, steel, and wood—the industries providing finishes for wall linings, floors, and ceilings are also impacted. Design tools under development by the National Research Council of Canada and industry partners will help facilitate the transition. Development of these tools is essential, and their development is ongoing, requiring continual updates as data from laboratory testing become available.
In the near future, impact noise requirements and low-frequency noise requirements may be embedded in the NBC. Some construction industries will be working closely with key partners to help undertake the research and generate the data, and to develop the design tools needed by designers. Others may not, and may find themselves outside the market, looking in. (For more background, this author recommends the following NRC articles, which contain information communicated in this feature: [a] Construction Technology Update No. 66, by J.D. Quirt and T.R.T. Nightingale [2008], [b] meeting minutes of the SIG, "Development of Canadian Framework and Guide regarding Apparent Sound Insulation in Construction," [c] "Supporting Better Noise Control in Canadian Buildings," by Sabourin et al [2014], and [d] "Calculating the Apparent Sound Insulation," by Mahn et al).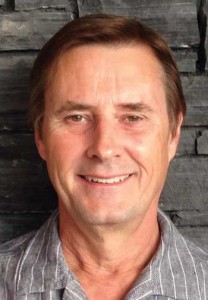 Gary Sturgeon, B.Eng., MSc., P.Eng., is a senior structural engineer with Calgary-based BBSTEK Design Ltd. He has 35 years of experience in masonry design, construction, and materials. Sturgeon is a member of the Part 5 Standing Committee of the National Building Code of Canada (NBC). He can be reached by e-mail at bbstek@telus.net.

Control the content you see on ConstructionCanada.net!
Learn More.