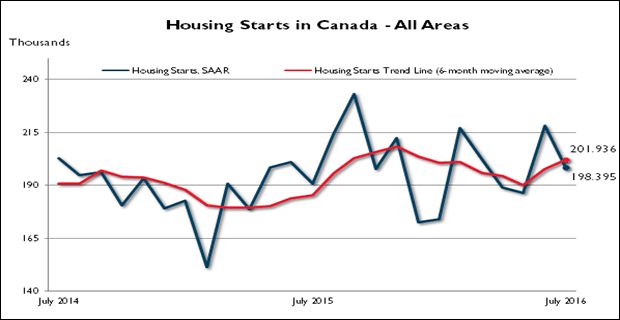 Canada Mortgage and Housing Corporation (CMHC) says housing starts totalled 201,936 units on an annualized basis last month, up from 197,847 units in June. Starts were also up on an actual basis, but the seasonally adjusted annual rate (SAAR) fell over the same period.
CMHC uses the trend measure—a six-month moving average of the monthly SAAR—to account for the considerable swings often seen in the monthly estimates and to obtain a more complete representation of the state of Canada's housing market. The agency said analyzing only SAAR data can be misleading, however, as it is largely driven by the multi-unit segment of the market.
"July's housing started to pick up pace, as construction strengthened in British Columbia and Ontario's multi-unit segments," said Aled ab Iorwerth, CMHC's deputy chief economist. "This reflects strong demand for lower-priced homes and low inventories of completed and unsold new units."
The standalone monthly SAAR for all areas in Canada was 198,395 units in July, down from 218,326 units in June. The SAAR of urban starts decreased by 9.9 per cent in July to 182,620 units. Multiple urban starts decreased by 13.3 per cent to 123,630 units in July, and the single-detached urban starts decreased by 1.8 per cent to 58,990 units.
In July, SAAR decreased in Québec, British Columbia, Ontario, and in Atlantic Canada, but increased in the Prairies.
Rural starts were estimated at a seasonally adjusted annual rate of 15,775 units.
As Canada's authority on housing, CMHC contributes to the stability of the housing market and financial system, provides support for Canadians in housing need, and offers objective housing research and information to Canadian governments, consumers and the housing industry.