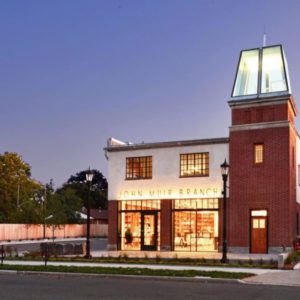 The Canadian Association of Heritage Professionals (CAHP) has awarded several 2021 projects for heritage conservation in conservation architecture, engineering, construction, documentation and planning, heritage awareness, and student achievement.
The Award of Excellence in the category Conservation: Architecture went to the John Muir Branch–Windsor Public Library. The project celebrates the rehabilitation of a 1921 firehall and a 19th century firehall stable, connecting the two historic buildings and transforming them into a community library. The awardees include Christopher Borgal of GBCA Architects and Jason Grossi of studio g+G inc., architect.
The Award of Excellence in the category Conservation: Engineering went to the Fort Mississauga Tower Stabilization located in Niagara-on-the-Lake. The building was constructed during the War of 1812. The project included stabilization and focused on retaining as much of the original historic building as possible. The awardees include Jonathan Dee of John G. Cooke and Associates Ltd., Sean Leigh of Heritage Restoration Inc. and Stefan Gingras of GRC Architects Inc.
In the category of Materials, Craftsmanship and Construction, the Award of Excellence went to CCA Sculpture Garden, located in the Montreal's Square Mile. The project was addressed to do some repair work in the garden. The awardees of the project include Giovanni Diodati and Julia Gersovitz of EVOQ Architecture Inc.
The CAHP has also given out Awards of Merit to the other projects in the categories, which are listed here.