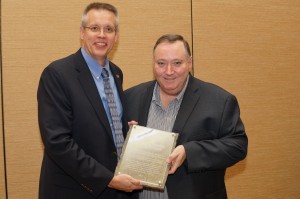 The American Concrete Pavement Association (ACPA) has recognized the Canadian Concrete Association (CCA) with the 2014 Sustainable Practices Recognition Award.
The organization was given the honour because of its leadership in the industry regarding pavement sustainability and research on vehicle fuel efficiency on pavements. This award is presented to an organization or team demonstrating sustainable design and construction processes that take societal, environmental, and economic factors into consideration.
Other awards distributed this year include:
● Larry Scofield, PE, director of engineering and research at International Grooving & Grinding (Marlin J. Knutson Award for Technical Achievement);
● James Mack, PE, director market development–commercial strategy at CEMEX (Outstanding Pavement Promotion Award); and
● Runway 12/30 Whitetopping at Renner Field (Lifetime Pavement Recognition Award).
For more information about the winners, visit www.acpa.org.