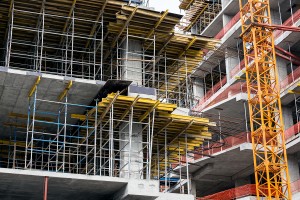 According to Statistics Canada, municipalities across the country issued building permits totalling $9.2 billion in July—up nearly 12 per cent from June.
In the fourth consecutive month with an increase, the July building permits rise is being attributed to multi-family dwellings in Ontario and British Columbia, as well as institutional projects in Manitoba.
Overall, residential permits were up for the fifth straight month with an 18 per cent increase to $5 billion in July. These gains were led by permits for intended apartment and condominium projects in Ontario, British Columbia, and Alberta. However, the largest decline in residential projects was in Nova Scotia. Nationally, permits were issued for 20,511 new dwellings, up 21.4 per cent from permits in June. Multi-family projects were up more than 35 per cent to 14,050, while single-family dwellings decreased slightly by 0.6 per cent to 6461.
For non-residential building, permits rose 5.2 per cent to a total of $4.2 billion; representing the fourth month of increases. A total of six provinces cited growth, with Manitoba topping the list. Alberta and Québec recorded the largest declines, following large increases the previous month. The value of permits for institutional projects rose to $1.8 billion, or 28.4 per cent, following a rise in June. This is mostly due to medical facilities in Manitoba and Québec, as well as educational projects in Alberta.
Ontario and Québec posted the largest increases in commercial projects, citing growth of 2.6 per cent to $1.8 billion, following a slight decrease in June. Intentions for warehouses, retail, and wholesale outlets topped the list of projects.
A total of 21 of the 34 metropolitan areas reported increases, with Toronto, Vancouver, and Hamilton topping the list. The largest declines were seen in Calgary and Kitchener–Cambridge–Waterloo.