Canada's 'first zero-carbon firehall' is now open
by arslan_ahmed | September 13, 2023 3:44 pm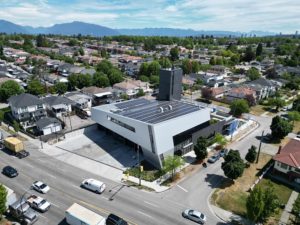 Vancouver's Firehall 17, claimed as Canada's first zero-carbon firehall, is now providing essential fire and rescue services, while showcasing a design approach that is better for people and the planet.
Located at 7070 Knight Street, the new firehall is the second largest training site for Vancouver Fire Rescue Services (VFRS). The expanded building is also designed to be a post-disaster communications hub and fitted with equipment needed to keep the community connected in the event of a disaster, such as an earthquake.
The building is an example of the city's leadership on climate action and is paving the way for future buildings to achieve near zero emissions. This project became a reality with the combined efforts of a collaborative team, which included hcma (architects and sustainability consultants), the City of Vancouver, Introba (specializing in mechanical and electrical systems), Morrison Hershfield (providing energy modeling expertise), and RJC Engineers (responsible for envelope and structural aspects).
Nearly 60 per cent of Vancouver's carbon pollution comes from burning gas to heat buildings and provide hot water. The new firehall was constructed to a zero emissions standard and achieved Leadership in Energy and Environmental Design (LEED) gold certification and net-zero energy as defined by the Federation of Canadian Municipalities (FCM). It is also on track to achieve Passive House certification.
The Introba team implemented various design strategies to meet the project's ambitious sustainability objectives. The mechanical systems comprise a geo-exchange field combined with ground source heat pumps, which distribute heating and cooling water throughout the building. Thanks to the high-performance building envelope, the geo-exchange field's size is reduced to one-fifth compared to a building built to minimal code standards. This approach helped the team overcome the cost challenges associated with envelope upgrades like photochromatic glazing, which reduces cooling energy demand while preserving the aesthetic and form envisioned by the architect for the hall.
With financial support from the Federation of Canadian Municipalities, Fire Hall 17 has installed a 95 kW solar photovoltaic array to achieve net-zero energy operation. This solar array enables the all-electric post-disaster fire hall to maintain operational resilience in the event of a disaster by significantly reducing its dependence on the grid.
"The new Firehall 17 is a leading example of the City of Vancouver's innovative approach to meeting climate commitments while investing in our city and providing the services Vancouverites depend on. It is a demonstration, we can make near zero-emissions buildings the new normal, while also helping to reduce energy and water consumption costs," says Ken Sim, the mayor of Vancouver. "This state-of-the-art firehall will also help train the next generation of firefighters, helping to keep Vancouver safe."
Endnotes:
[Image]: https://www.constructioncanada.net/wp-content/uploads/2023/09/53166347902_dccf54d167_c.jpg
Source URL: https://www.constructioncanada.net/canadas-first-zero-carbon-firehall-is-now-open/
---