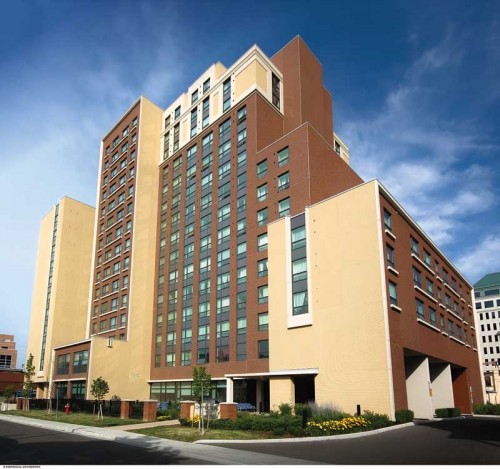 Brampton, Ont.'s Chapelview has become the country's first Leadership in Energy and Environmental Design (LEED) Platinum affordable housing building. The project is one of only about 17 LEED New Construction (NC) Platinum buildings in Canada.
Through the initiative of the Region of Peel and Enermodal Engineering, Chapelview is expected to achieve 50 per cent energy savings and 46 per cent indoor water savings compared with a conventional multi-unit residential building. Designed by HCA Architecture, the structure consists of six levels of underground municipal and residential parking and 15 storeys (200 apartment units) of housing targeted for people with disabilities and low-income seniors and singles.
Each suite has an independent ventilation system, which, combined with an airtight building envelope, proper levels of insulation, and weatherstripped suite doors, ensure the best air quality for residents. The transfer of air and odours between units is minimized by this ventilation system, which evacuates stale air and replaces it with fresh air.
The suite ventilation system's fan runs continuously, ensuring fresh air is brought into the suite and distributed to each space through ductwork. Stale air is exhausted from the kitchen and bathroom. Turning on the bathroom light or kitchen range hood increases the speed at which fresh air is brought in and stale air is removed. Each suite also has operable windows for when residents require even higher levels of ventilation.
Suite window size was based on balancing the need for sufficient daylight with the need to minimize energy loss (i.e. heat in winter and cool in summer). The windows are double-glazed, low-emissivity (low-e), and argon-filled with insulated spacers. The aluminum frames incorporate large thermal breaks that reduce both heat loss and the potential for condensation. Although the window selection resulted in higher costs, it is offset by decreased utility costs as a result of minimal heat loss through windows.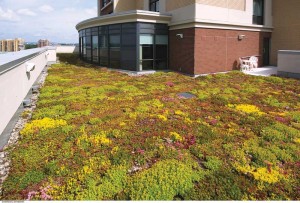 At Chapelview, all paints, coatings, and glues used inside the building contain very low levels of volatile organic compounds (VOCs) compared with conventional materials. This decreases health concerns for the construction team when applying these finishes, as well as for building occupants.
Green housecleaning products (i.e. phosphorous-free to reduce impacts on local waterways and resident health) are included with each resident's move-in package. One of the easiest and most effective ways to lower water consumption in buildings is to use low-flow fixtures for faucets, toilets, and aerated showerheads; the front-load laundry washers also saves water.
Other recycled materials used in the construction included:
Forest Stewardship Council (FSC)-certified wood;
wheat-based products for doors;
soya and recycled plastic bottles for sprayed polyurethane foam (SPF) insulation; and
100 per cent recycled drywall.
Hallway lighting is controlled by occupancy sensors to save energy. Half the lighting turns off when no one is in the hallway for an extended period; once someone enters the hallway, all lights turn on.
A tri-sorter waste disposal is also provided in the building. A chute on every floor can be operated to change the path of materials to waste, recycling, or organics. This reduces the amount of recyclable or compostable material sent to the landfill.
All landscaping uses only native plant species, including the green roof on the 12th floor. This vegetated assembly reduces the stress on the city's stormwater system by absorbing some of the rainwater that falls on the roof––water which would otherwise end up in the stormwater system. The roof also increases green space to help reduce the urban heat island (UHI) effect.

Control the content you see on ConstructionCanada.net!
Learn More.