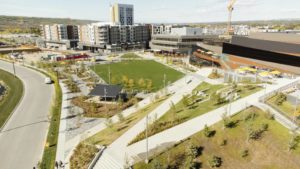 Central Commons Park, opened to the public recently, is designed as an all-season destination, inspired by the Rocky Mountains' tectonic plates.
The park serves the University of Calgary and its West Campus, as well as the mixed-use University District comprising of offices and retail spaces.
The area features unique seasonal amenities, including a refrigerated ice-skating rink, spanning almost 1,579 m2 (17,000 sf), a staging area for concerts, picnic areas with tables, BBQ stations, fire features, and several patio spaces.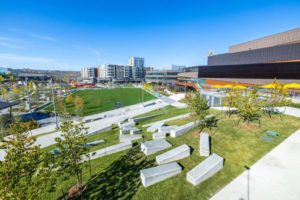 The urban design and landscape architecture firm, Civitas, alongside Scatliff Miller Murray (SMM), designed the park for daily use and community gatherings, further enhancing two 7,432-m2 (80,000-sf) of retail space and office buildings by GGA-Architecture. Graham Construction worked as the contractor on the project.
"The new park transformation gives Calgary an accessible and simple yet elegant design that will be highly frequented during all seasons," says Heath Mizer, the park's lead designer. "We came up with a design concept that reflects the nature of the tectonic shifts of the nearby Rocky Mountains. By co-ordinating with the adjacent building's architecture teams, we were able to integrate landscape and architecture that shows a smooth transition between the buildings and park. When people are enjoying the park, they will see the design is inspired by the geology of mountain ranges. This gave us a vocabulary we were able to translate throughout the entire development."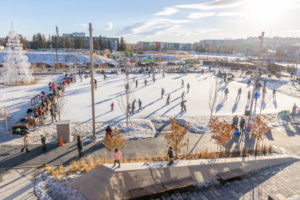 Central Commons Park has quickly taken shape as a highly dynamic, connected, responsible and innovative community amenity, becoming a new destination and landmark in Northwest Calgary. The University District is LEED for Neighborhood Development (LEED-ND) Platinum certified and is attracting a wide variety of residents, thanks to its accessibility, innovative design, convenience and proximity to significant health, higher education, and retail facilities in the immediate area.